Watch Elijah Wood fight Dominic Monaghan at Fantastic Debates 2011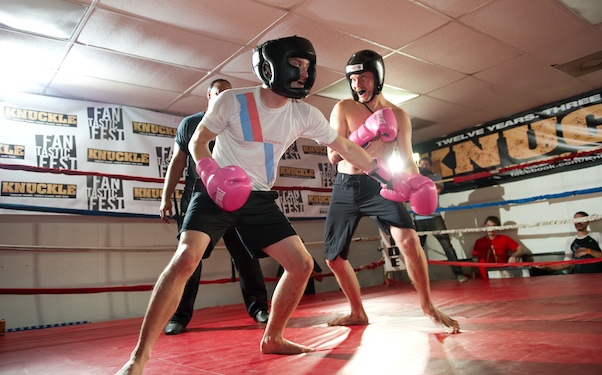 Posted by Matt Singer on
I've had some pretty heated arguments over movies at film festivals, but that's nothing compared to Fantastic Fest's Fantastic Debates, where filmmakers, critics, and fans aren't just encouraged to argue, they're encouraged to fight. Now, if you've never been to a film festival, spent time around filmmakers and critics, let me explain something. These people are, with very few exceptions, the most unathletic human beings on the planet. They — and I should say we, since I'm equally guilty — spend all day every day watching movies. Our muscles have atrophied from lack of use, our bellies have bloated from too much popcorn and soda. Getting these folks in the boxing ring to settle their differences is always a hilarious, awkward spectacle.
There was one guy in fighting shape at this year's Fantastic Debates: James Quinn McDonagh, not only an athlete but an undefeated bare knuckle boxer. McDonagh is the star of the entertaining documentary "Knuckle," which chronicles more than a decade in the lives of feuding Irish Traveller clans. In the film, which sponsored this year's debates, we see him beat men to bloody pulp with his bare hands. And I'm not exaggerating for dramatic effect: when his fights are over his opponents are lumpy puddles of broken flesh. You'd have to be insane to get into the ring with this guy.
Alamo Drafthouse and Fantastic Fest founder Tim League is apparently insane. Showing impressively reckless disregard for his own physical well-being just weeks after his wife gave birth to twins, League challenged McDonagh to a debate and fight to prove once and for all who is tougher: a Texan or an Irishman. League's debate strategy was to argue that a theoretical Texan was tougher than a theoretical Irishman, since nobody was going to buy that he was badder man than McDonagh. "Everybody in Europe with a little bit of fight in their belly left and came to the United States before the American Revolution, leaving behind the week and the feeble in places like Ireland." League argued. In response, McDonagh acknowledged the futility of arguing against Texas in Texas, but he did chide League for "beating up a woman" last year at the Fantastic Debates, when he challenged actress Michelle Rodriguez.
But the real highlight of this year's card was an epic bust-up between two former co-stars: Elijah Wood and Dominic Monaghan of "The Lord of the Rings" fame going toe-to-hairy-toe to settle the matter of whether World of Warcraft is a complete waste of time. Call it: The Beatdown in Hobbiton.
This one wasn't even close; Monaghan really did throw old Frodo a beatdown. In the debate portion of the evening, he outed himself a serious WoW nerd, sharing stories of dungeoning as an undead warlock and being seduced by a woman who was really a guy named Dave. When they put on the gloves, Monaghan pummeled his buddy with some serious shots to the face and body, even cutting Wood below the eye. Reportedly Monaghan's trainers had to tell him to ease up a little, but I guess some long simmering animosity over that precious ring finally exploded in the squared circle.
Here's a highlight reel of the evening produced by Erik Horn and Gates Bradley.
It was a pretty spectacular event. In fact, it's the only event I've attended here at Fantastic Fest that hasn't sparked any arguments of its own.
What other famous co-stars would you want to see fight? Tell us in the comments below or on Facebook and Twitter.