Eddie Murphy will host the 2012 Academy Awards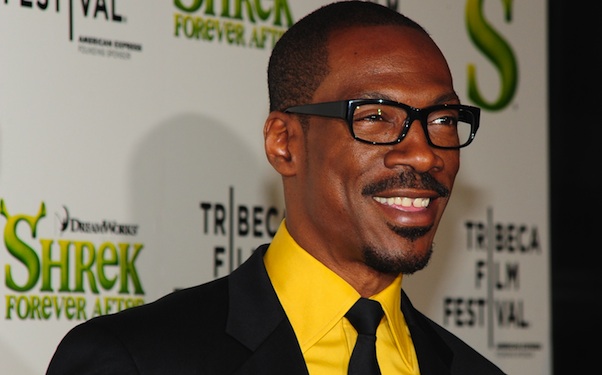 Posted by Matt Singer on
The Academy of Motion Picture Arts and Sciences announced today that they've found their host for the 2012 Academy Awards which, as we've previously discussed, will be co-produced by "Rush Hour" and "X-Men: The Last Stand" director Brett Ratner. It's going to beEddie Murphy, Oscar-nominated actor (for his supporting role 2006's "Dreamgirls") and, of course, incredibly talented comedian. From the Academy's press release:
"Eddie is a comedic genius, one of the greatest and most influential live performers ever," said Ratner. "With his love of movies, history of crafting unforgettable characters and his iconic performances – especially on stage – I know he will bring excitement, spontaneity and tremendous heart to the show [producer] Don [Mischer] and I want to produce in February."
The press release also included a brief quote from Murphy himself:
"I am enormously honored to join the great list of past Academy Award hosts from Hope and Carson to Crystal, Martin and Goldberg, among others," said Murphy. "I'm looking forward to working with Brett and Don on creating a show that is enjoyable for both the fans at home and for the audience at the Kodak Theatre as we all come together to celebrate and recognize the great film contributions and collaborations from the past year."
In recent years, Murphy's become a staple of family comedies, most famously as the voice of Donkey in "Shrek" and most infamously as the star of dreck like "Imagine That," "Meet Dave," "Norbit." A lot of his current film work is so forgettable that it's easy to forget that in the 1980s, Murphy was one of the most dynamic and charismatic live performers on the planet. He was a cutting edge stand-up comedian who released two specials into movie theaters (1983's "Delirious" and 1987's "Raw") and he almost single-handedly kept "Saturday Night Live" on the air after the original cast departed at the end of the 1970s. True, Murphy has shunned a lot of his own history — he never contributes to "SNL" retrospectives or reunions and he hasn't done stand-up in decades — but guys as naturally talented as he is don't just forget how to be a live performer. That's why I think he's the perfect choice as Oscars host.
For years, fans of old-school Eddie have been waiting for him to get back to stand-up and performing live in front of an audience. Come February 26, 2012, they're going to get a chance at the Academy Awards. Sure, the venue will dictate a lot of the material. The jokes may, alas, sound more like new Eddie than old Eddie. But this much is certain: Murphy's a much more natural host than James Franco. His next movie will be November 4th's "Tower Heist" directed by — you guessed it — Brett Ratner.
What do you think of the choice of Eddie Murphy as host of the Oscars? Tell us in the comments below or on Facebook and Twitter.