David Lynch's "Mulholland Drive"-themed club opens its doors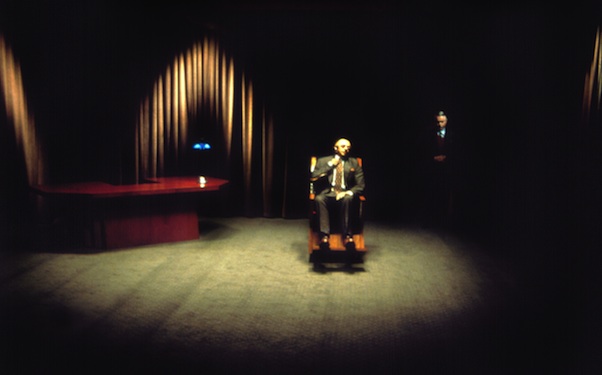 Posted by Matt Singer on
A couple of months ago, we told you about David Lynch's plans to open a "Mulholland Drive"-themed nightclub in Paris named Silencio, after the mysterious club featured in the film. Last week, The Guardian filed a dispatch on the club's quiet, uneventful opening. As reporter Fiachra Gibbons put it, "There were no dwarves. No dancing men. No one talked backwards – until the daquiries kicked in – and with the exception of the Japanese cowboy who turned out to be a fashion designer, no one looked all that weird."
What a disappointment.
Gibbons' article describes Silencio in detail: it sounds posh, atmospheric, and depressingly lacking in demented, Lynchian touches. He describes "Buddhist cocktail bars with their own bijoux cinemas, library, dream forest and stage" found six flights down beneath Paris. It sounds like a lovely place for an stupidly expensive cocktail — a year's pass to the members-only establishment will set you back €780, about $1100 — but I was hoping for a sort of David Lynch Planet Hollywood, with the Eraserhead baby by the bar, a "No Hay Banda" floor show every night, Naomi Watts lost in a somnambulant fog in the back of the theater, and plenty of Pabst Blue Ribbon on tap. Silencio may be pretty — and it certainly does look beautiful in The Guardian's pictures — but there are, presumably, lots of beautiful bars in Paris. There's only one David Lynch. And do you really think of upscale cocktail lounges when you think of David Lynch?
Gibbons reports that Lynch himself, who wasn't in attendance for opening night, will be on hand next month programming special events. Maybe that's when things will get interesting. If there's a sudden run on bunny costumes in France come October, you'll know you need to get your ass down to Silencio.
Would you want to visit Silence? What would want to see there? Tell us in the comments below or on Facebook and Twitter.