Johnny Depp gets creepy with Tim Burton in new "Dark Shadows" production photos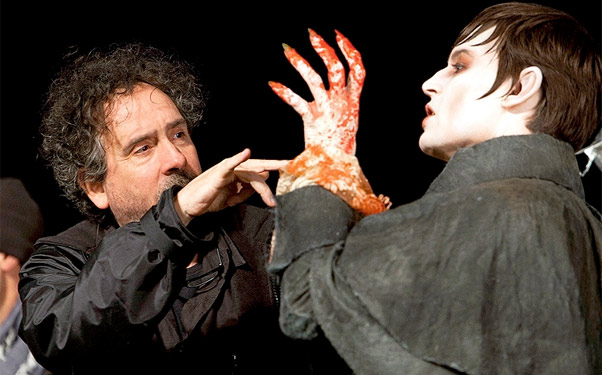 Posted by IFC on
After the backlash to the first few photos released from the set of "Dark Shadows," it seems as though the team behind the project is doing their best to reclaim skeptics of the film. First Entertainment Weekly released a spread that showed Johnny Depp and the rest of the cast in full "Dark Shadows" regalia, and now Empire magazine has a acquired a couple behind-the-scenes photos that show that the earlier images of the movie that received such a negative response are not a good representation of the film as a whole.
Noticeably lacking from both sets of new photos is the now-staple Tim Burton-style make-up that was the focus of much of the criticism directed at the first few set pictures. That representation of Depp's Barnabas Collins looked better suited for "Edward Scissorhands" or "Alice in Wonderland" instead of this remake of the beloved cult 60s television show.
The Entertainment Weekly spread was the first to show that the too-white make-up, heavily accented cheek bones and bright purple sunglasses seen in the first few set photos had been ditched, and the photo Empire released of Depp reinforces that idea. Though the use of heavy make-up is still evident, it's more subdued than what has been used in previous Burton movies (we're looking at you, "Charlie and the Chocolate Factory") and less stylized than the first few pictures released had led fans to believe.
The image is also the first to showcase Depp in full vampire regalia. "Dark Shadows" is a gothic tale that features an array of vampires, witches and other supernatural beings, meaning its the perfect fodder for a Depp/Burton mash-up. Fortunately, Depp looks appropriately ghastly as vampire playboy Barnabas Collins in these photos instead of looking like he's ready to cover the next best-selling Hot Topic shirt. His hand is covered in blood and features some claws that look pretty deadly, and all the similarities between him and Michael Jackson have since disappeared. The still shows Burton offering Depp his direction in what looks to be an action-packed scene.
The second picture that Empire acquired shows Burton directing Michelle Pfieffer and Johnny Lee Miller.
"Dark Shadows" also stars Chloe Moretz, Christopher Lee and Burton regular Helena Bonham Carter. The flick heads to theaters on May 11, 2012 and, fortunately, is not being released in 3D.
"Dark Shadows" fans, what do you think of the new photos? Let us know below or on Facebook or Twitter.