"The Dark Knight Rises" set videos show crashes, fireballs, etc.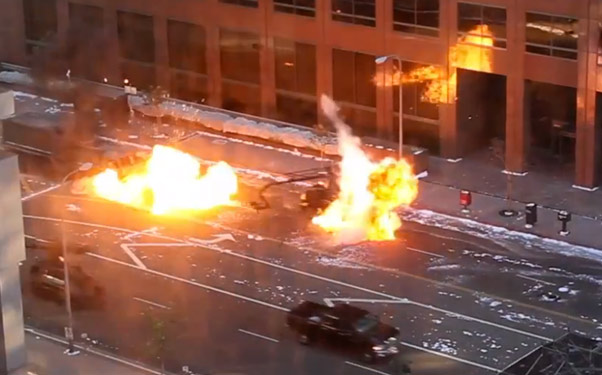 Posted by Aubrey Sitterson on
We were beginning to get worried. After seemingly constant "Dark Knight Rises" updates via surreptitiously filmed YouTube videos, it's been over a week since we've seen anything new from the movie's set. Thankfully, some patient Angelinos stepped up to the plate, planting themselves at a window or balcony high above the Los Angeles streets and capturing some all-new footage of the production.
While no actors are visible, and likely aren't even on set for this particular sequence, the three videos still give eager fans a good look at some of the movie's action. In particular, they show a massive black truck barreling down the street through exploding fireballs, as well as that same truck blasting through a guardrail and plummeting to god knows where below. Also, if for some reason you were concerned that the tumbler version of the Batmobile wouldn't be making an appearance, you can rest easy, as the third video shows off what looks like a jacked-up version of Batman's signature ride cruising down the street.
Watch the videos below, then make sure to tell us if we missed any important details in the comments and on Facebook and Twitter.