Are modern action movies suffering from a "Dark Knight?"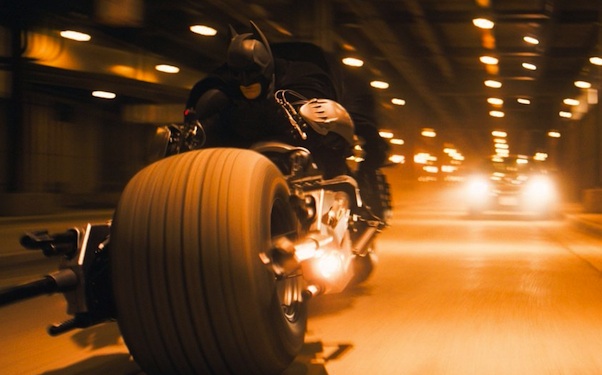 Posted by Matt Singer on
We seem to be moving past the craze of people reveling in their newfound ability to reedit movies on their home computers by making entertaining but superficial ten minute compilations into an exciting new world of video-based film criticism. indieWIRE's Press Play blog is clearly the early vanguard. We previously shared their piece by Matthias Stork examining the use of "chaos cinema" techniques in modern action movies; this afternoon I'm sitting here absolutely enthralled by the first two installments of a three part series by Jim Emerson that delves even deeper into the state of Hollywood action cinema.
Part one is a twenty minute critique of a single chase scene from 2008's "The Dark Knight" by Christopher Nolan. I don't think it's an exaggeration to say that Emerson's piece is a flat-out evisceration. It starts with a quote from "Dark Knight" editor Lee Smith saying that "action…has to be very carefully planned and conceived" and then proceeds to show, shot by shot, the ways in which this particular sequence reflects a lack of planning and conception. Because the scene is cut so frenetically, most of these details are difficult to spot at 24 frames per second. But slowed down, some of the mistakes become glaringly clear; cars appear and disappear from one shot to the next, and one of the most important images in the entire sequence, that of a SWAT van careening off a bridge and into the river, makes absolutely no sense in context. It's pretty devastating; and I say this as someone who was and is a big fan of "The Dark Knight." So here's part one:
Emerson identifies a lot of problems in this sequence. But there's always the argument to be made that some of the spatial confusion and visual incoherence was intentional. "The Dark Knight" proceeds at a breathless pace, not just during this scene but throughout the entire movie. A lot of the film's power comes from the fact that we in the audience are at the mercy of The Joker, whose anarchic desires have infected all of Gotham City, and seemingly the film itself. In other words, The Joker's disorienting, unsettling presence on the people of Gotham has the same impact on "The Dark Knight"'s action scenes.
That's also a valid reason for one of the other Nolan techniques that Emerson rejects: the way he briefly introduces seemingly ordinary Gotham citizens like cops or truck drivers only to immediately serve them up as lambs to the super-villain slaughter. The effect of these shocking, brutal murders is, similarly, to keep us constantly on edge, wondering when and where The Joker will strike next.
Taken one shot at a time, I wholeheartedly agree: many elements of the sequence violate all sorts of rules about visual continuity in cinema, and some of the mistakes and gaffes look shockingly inept. But watched as one continuous whole, the sequence holds together (at least for me) as a gripping, suspenseful chase. It may not be logical, but it is emotional. It is one of the positive examples of Stork's "chaos cinema." If The Joker is portrayed as an agent of chaos, why shouldn't his chase scenes be chaotic?
Emerson's next piece provides the counter-example to "The Dark Knight"'s spatial missteps. It's from Phillip Noyce's 2010 spy thriller "Salt." That's a movie I — and a lot of people — enjoy a lot less than "The Dark Knight," but this is a compelling argument why its action scenes are superior on a technical level.
Again, Emerson's argument is very well-reasoned and superbly cut. But I'll flip what I said about "The Dark Knight;" the scenes in "Salt" are logical but they are, at least for me, not emotional. Noyce may be a more classically skilled action director than Nolan, but there's no question which film I'd watch if you offered my the choice between "The Dark Knight" and "Salt." I guess action movies can sometimes be more than the sum of their action. Regardless, I'm still really looking forward to part three of Emerson's series. More video film criticism please!
What do you think of the action scenes in "The Dark Knight?" Tell us in the comments below or on Facebook and Twitter.