Damon Lindelof writes a love letter to "Raiders of the Lost Ark"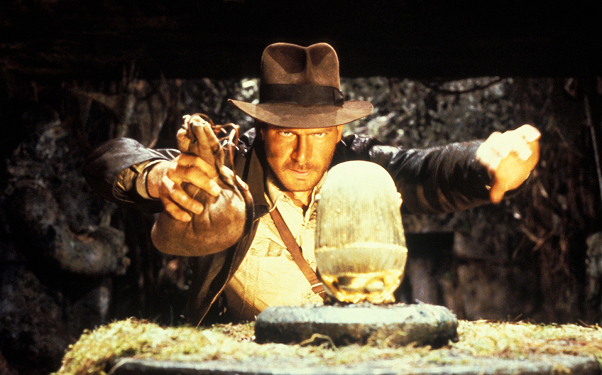 Posted by Rick Marshall on
Emmy-winning writer and producer Damon Lindelof is best known for his work on "Lost" and the 2009 "Star Trek" reboot, but in a recent guest essay for The L.A. Times blog Hero Complex, Lindelof reveals one of the biggest inspirations for his career — via a love letter to 1981's "Raiders of the Lost Ark."
I could go on for pages about just the little things. Like the sound you make when Indy punches someone in the face. Or that Marion's superpower is drinking. And don't even get me started on the coat hanger. Where did that Nazi even get that thing? Did he special-order it? "I need somezing that vill terrify people when I take it out, but then give them a false zense of relief when I reveal it is simply somezing on vich to hang my coat." Seriously. The best. But I know you've probably heard it all before and therefore, I'll stick to the big stuff.
The essay is part of the upcoming 30th anniversary celebration of "Raiders," which will feature a free screening of Indiana Jones' big-screen debut on September 12 in L.A. and a live Q&A with "Raiders" director Steven Spielberg.
In Lindelof's essay, he goes on to explain why "Raiders" is memorable for being the last time he remembers peeing his pants — and how he had to be convinced to see the film that he would later consider "one of the most perfect movies ever made."
You know what else is wonderful about you? That over and over and over again, Indiana Jones has failure rubbed in his face, yet he refuses to give up. He gets the Golden Idol…. But it's snatched away by a Frenchman. Indy finds the Well of Souls and recovers the Ark. It too gets taken away from him. Same Frenchman! Now Indy gets back the Ark and … oh no, Nazi submarine! They take the Ark and Marion… but Indy gets the drop on them with a bazooka! And yet, he can't bring himself to destroy the Ark, so Indy is captured.

By the Frenchman.
From explaining why Indiana Jones is a nerd and how the film makes it okay to be scared, to that final, gruesome scene that Lindelof lived through Indy's eyes, the filmmaker explains why Spielberg's classic film is the movie that shaped his perspective on heroes and making movies.
Oh, and he also throws in a funny little self-referential jab for "Lost" fans, too.
"In a world where movies and TV shows often end in ways that are sometimes unsatisfying bordering on outrage-inducing (yeah, yeah, I know), your ending, darling Raiders, is absolutely, exquisitely perfect," he writes.
What do you think of Damon Lindelof's "Raiders of the Lost Ark" love letter? Chime in below or on Facebook or Twitter.