Fantastic Fest 2011: "Clown," reviewed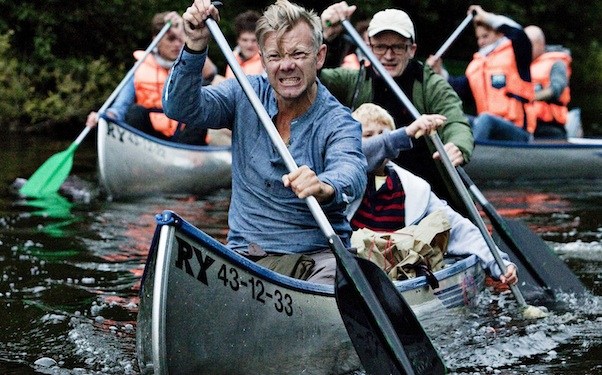 Posted by Matt Singer on
What's the funniest movie of the year? "Bridesmaids?" "Horrible Bosses?" "Justin Bieber: Never Say Never?" No, the funniest movie of the year so far is a Danish comedy called "Clown." The only problem with this movie is you can't see it: it currently has no distribution and its content is so edgy, it might have trouble finding it without some significant cuts. So it's the funniest movie you won't see this year. It poses a sort of cinematic philosophical conundrum: if a movie is hysterical, and no one is around to laugh at it, is it really funny?
"Clown" is a big-screen adaptation of a TV series of the same name that I'd never even heard of before it screened at Fantastic Fest. Fortunately, you don't need to know anything about the series to enjoy "Clown;" all that's required is a love of "Curb Your Enthusiasm"-style observational-slash-confrontational awkwardness and Farrelly Brothers-style gross-out sex humor. Smash those two together and drown them in Underberg bitters and you've got "Clown."
The premise is very "Curb," with two Danish actors, Frank Hvam and Casper Christensen, playing loosely fictionalized versions of themselves, stand-up comedians with endlessly patient girlfriends. Frank is uptight, Casper is outrageous. The two plan a vacation away from their loved ones they secretly name "Tour De Fisse" — a.k.a. "Tour De Pussy" in English — a canoe trip to the greatest brothel in the world. The only problem is Frank's girlfriend is newly pregnant, and she's been giving him flack about hating kids and being unprepared for fatherhood. Determined to prove her wrong (even though she's absolutely right) he drags a pre-pubescent boy named Bo (Marcuz Jess Petersen) that his girlfriend's supposed to be babysitting along for the trip. The Tour De Pussy. You see the problem here.
The film wears its episodic roots on its sleeve: Tour De Pussy becomes a series of epic misadventures along the trio's trip. The threads that connects it all together are the character dynamics: Casper devilishly egging on Frank, Frank struggling to connect with Bo, Bo trying to figure out what the hell he's doing on this trip with these two weirdos. All three make wonderful traveling companions, even if their travels don't always go so wonderfully. The final act of the film manages to pull off a combination of sentimentality and humor so simultaneously sweet and hilarious that it would make Judd Apatow super(bad) jealous. And while the jokes are utterly immature, the film actually offers a surprisingly mature portrait of masculinity in all its wondrous insecurities.
I know what you're thinking: "Matt, this movie sounds fine, but you haven't explained what makes it so funny." That was by design. This sort of outrageous shock comedy works best as a surprise. I can tell you that the film has a sex scene so funny it made me cry, and a riff on the final punchline in "The Hangover" so outrageous it made me scream (and might also be illegal to show in the United States). Both of those moments are the biggest laughs in any movie this year, if only you could see them this year.
"Clown" does not have US distribution, but holy cow it deserves it. If you saw it at Fantastic Fest, or you're a fan of the original series, tell us in the comments below, or on Facebook and Twitter..