"Captain America: The First Avenger" DVD & Blu-ray will include "The Avengers" sneak peek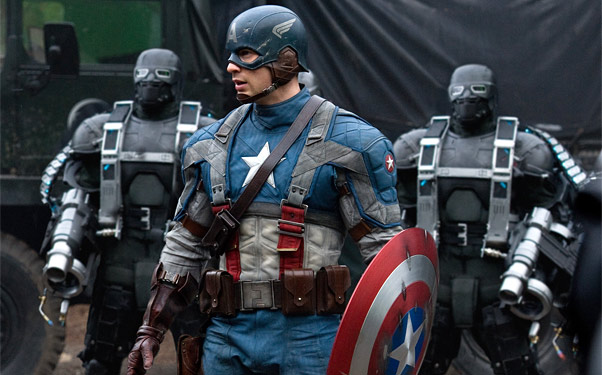 Posted by Aubrey Sitterson on
The summer of 2011 was lousy with comic book movies, many of them kind of, well…lousy. But of all the flicks with a history in the funny books this summer, the absolute best was "Captain America: The First Avenger." With the October 25 release of both two and three disc versions of the film you can enjoy one of the year's best movies, superhero or otherwise, as well as some awesome bonus features.
In a little more than a month, "Captain America: The First Avenger" will hit retail stores in both a two and three-disc versions. While both include a Blu-ray disc and a DVD version (presumably to hand off to your poor friends), only the three-disc version will include a Blu-ray 3D version for those of you who need to ogle a shirtless Chris Evans in three dimensions.
In addition to the film with commentary by director Joe Johnston and others, the Blu-ray disc also includes a slew of special features, like the Marvel short film "A Funny Thing Happened on the Way to Thor's Hammer," number of pieces on the making of the film, original trailers and even deleted scenes. But the most exciting part of the Blu-ray/DVD release is the "Assembly Begins" featurette, which offers an exclusive sneak peek at next year's Marvel team-up film "The Avengers."

Are you excited for the Blu-ray and DVD release of "Captain America: The First Avenger"? Which version of the movie do you plan on picking up on October 25? Tell us in the comments below or on Facebook and Twitter.