The 12 best movie footwear, from "Back to the Future" to "Spinal Tap"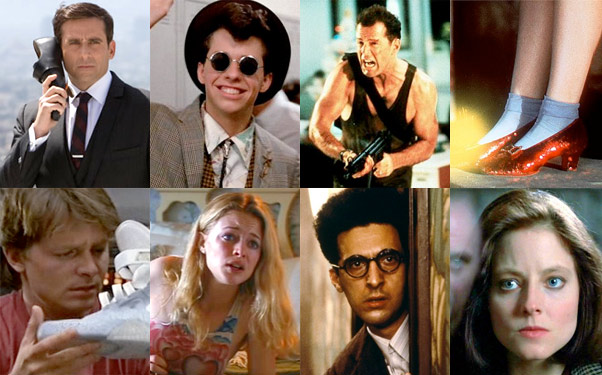 Posted by IFC on
Marty McFly's shoes from "Back to the Future Part II" actually exist! Well, sort of, anyway. Regardless of the circumstances or limitations, the release of the light-up (if not self-tying) Nike Mags (which can be yours for around $5,000), means THE FUTURE IS NOW, so let's go back to the past and take a look at some of the best movie footwear from yesteryears.
---
1. "Knock Off" (the knock-off shoes)
One of Jean Claude Van Damme's most underrated films, "Knock Off" features director Tsui Hark's trademark hyperactive and wildly imaginative camera work. We're especially fond of the picture-on-picture that comes up (for no particular reason) when Van Damme reaches into a box and pulls out a watch, but our favorite random flourish has to be when we enter a shoe from the point of view of Van Damme's foot as he prepares to participate in a street race where he has to drag Rob Schneider in a cart behind him as the little man whips his butt with a belt (don't ask). Too bad these shoes are, indeed, knock-offs — later, Hark swoops us into the heel of the shoe, where we see the materials shred and tear, leaving Van Damme to finish the race more or less sans footwear. A great movie with a great closing credits song by Sparks.
---
2. "Get Smart" (shoe phone)
Maxwell Smart, aka Agent 86, had plenty of sweet spy gadgets on the "Get Smart" television show of the '60s, and many of these wonderful toys made it into the not-bad 2008 film adaptation starring Steve Carell. Even though it's been rendered pretty much obsolete by things like, you know, cell phones, the shoe phone still proves to be a rather handy device for the bumbling secret agent. If nothing else, it makes for a swell visual gag — the sight of Carell looking ridiculously proud and suave as he displays a shoe phone as if it's the most elegant of wristwatches or something is actually quite amusing. Anyway, if you can get a direct line to Anne Hathaway with one of those things, we want one.
---
3. "The Wizard of Oz" (ruby slippers)
The ruby slippers worn by Dorothy in "The Wizard of Oz" are now among the most treasured and valuable of film memorabilia. Why? Hey, who wouldn't want to own a pair of shoes that can whoosh you off to Kansas with but a few clicks of the heels? They can also give wicked witches one heck of a shock when they try to take them off the feet of their squashed sister. The ruby slippers represent everything the film industry was embracing at the end of the '30s when "The Wizard of Oz" debuted in theaters: glitter, glamour, color and magic. It's too bad Dorothy couldn't take these back to the farm with her.
---
4. "Boogie Nights" (Rollergirl's roller skates)
Correct us if we're wrong, but we don't think there's one scene in Paul Thomas Anderson's bittersweet valentine to the world of adult entertainment where Rollergirl (Heather Graham) isn't wearing her rollerskates. She's even wearing them when she skips out on her high school exam in the film's first act, officially dropping out of school to embrace life as a full-time porn actress. Rollergirl's footwear of choice also comes in handy as a weapon when she uses her skates to smash in the face of some frat boy douchebag who dares "disrespect" her and her surrogate father, Jack Horner (Burt Reynolds). The wheels bring the pleasure… and the pain!
---
5. "Die Hard" (the terrorist with feet smaller than John McClane's sister's)
"After you get where you're going, you take off your shoes and your socks then you walk around on the rug barefoot and make fists with your toes." Maybe if John McClane hadn't taken this advice, he wouldn't have spent most of "Die Hard" without footwear. It's not like he didn't try to snag a pair of shoes at some point along the way — unfortunately, the first terrorist he killed had feet that were "smaller than his sister's." Ah, well — if McClane had worn shoes, he wouldn't have gotten shards of glass stuck in his feet, which means we wouldn't have had the scene where he pulls out the shards whilst tearfully talking about his wife, which is still some of the best acting Bruce Willis has ever done. Anyway, for all the snarky self-conscious wretchedness of "Die Hard 2," we're surprised McClane never exclaimed, "Hey, at least I'm not barefoot this time!" Yeah, yeah.
---
6. "This is Spinal Tap" (St. Hubbins)
Marty DiBergi: David St. Hubbins… I must admit I've never heard anybody with that name.
David St. Hubbins: It's an unusual name. Well, he was an unusual saint, he's not a very well-known saint…
Marty DiBergi: Oh, there actually is, uh… there was a "Saint Hubbins?"
David St. Hubbins: That's right, yes.
Marty DiBergi: What was he the saint of?
David St. Hubbins: He was the Patron Saint of Quality Footwear.
Hey, someone's got to be the saint of such a thing, right?
---