"Back to the Future"-branded self-tying Nike sneakers are finally on their way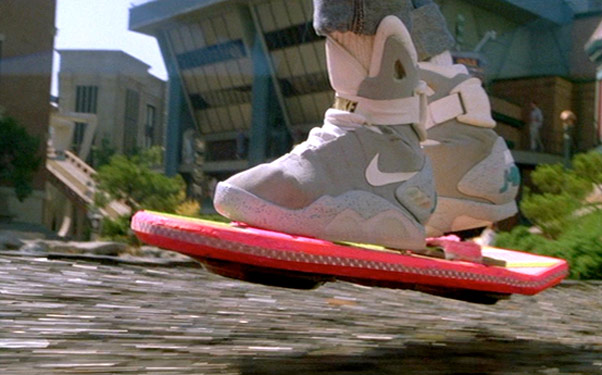 Posted by Aubrey Sitterson on
(UPDATE: Nike has released details and the self-tying feature isn't yet available. Click here for the latest on the Nike "Back to the Future" sneaker.)
Listen, about the hoverboards: It's just not going to happen. No matter how many jokey comments you make on Facebook and Twitter about only having four years left to get the "Back to the Future" toys into production, the fact remains that those things are physically impossible and don't even work on water. But while you won't be getting your hands on a hoverboard any time soon (or ever, most likely), you can still kick it like McFly with some Nike Mag high-tops.
The news broke over the course of the day yesterday, with Slashfilm covering the entire affair. Speculation kicked off when "Back to the Future" producer Frank Marshall started hyping a "Back to the Future" announcement on Twitter. Then, TechCrunch revealed that Nike was holding an event in LA tonight and was hinting at the existence of the Nike Air Mags.
In the original "Back to the Future Part II," the Mags would automatically tighten themselves around your foot, in addition to looking exactly like what someone in 1985 would expect 2015 sneakers to look like. Apparently, Nike finally broke the code on how to make sneakers tighten themselves up, and patented the technology last year.
Unfortunately, there's no word yet on where you can actually get the Nike Air Mags, how much they'll cost or even how the hell they work. But while you start pegging your jeans to properly show off the new kicks, you can get an early look at them with the video below:
What do you think about the Nike Air Mags? How long would you be willing to wait in line to pick a pair up? Tell us in the comments below or on Facebook and Twitter.