Spend over five grand on "Back to the Future" Nike Mags for a good cause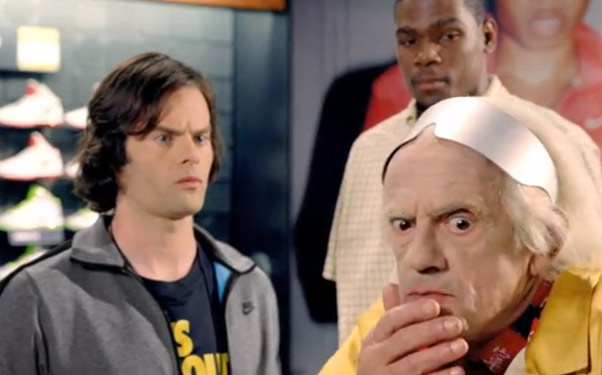 Posted by Aubrey Sitterson on
Yesterday we told you all about the 2011 Nike Mag sneaks, replicas of the shoes worn by Michael J. Fox in the 1989 flick "Back to the Future Part II." We've since found out that while these models don't have the coveted self-tie technology, they are being sold for charity, which makes their current going price of around $5,000 a little more understandable.
TechCrunch reported that Nike patented the shoes' "power laces" in 2010, but according to a new commercial for the shoes, that feature won't be available until 2015 (the same year Fox's character visited in "Back to the Future Part II"). A slew of the shoes are currently up for auction at nikemag.ebay.com, but don't expect to get a pair without dropping a few thousand dollars, more if you happen to wear a popular size.
Fortunately, all that filthy lucre is going to a good cause, specifically the Michael J. Fox Foundation for Parkinson's Research. This way, when someone accuses you of being a crass adherent of a shallow consumer culture, based simply on your $5,000 pair of light-up sneakers, you can feel free to accuse them of being against Parkinson's research.
Check out the commercial for the shoes below, which stars "Saturday Night Live's" Bill Hader and Kevin Durant, who plays for Oklahoma City Thunder, which apparently, is an actual basketball team. Who knew? More importantly, however, the spot also features an actor reprising his role from the "Back to the Future" movies.
What do you think about the new Nike Mags? How much dough would you be willing to drop on a pair? Tell us in the comments below or on Facebook and Twitter.