"Avatar" attractions coming to Walt Disney World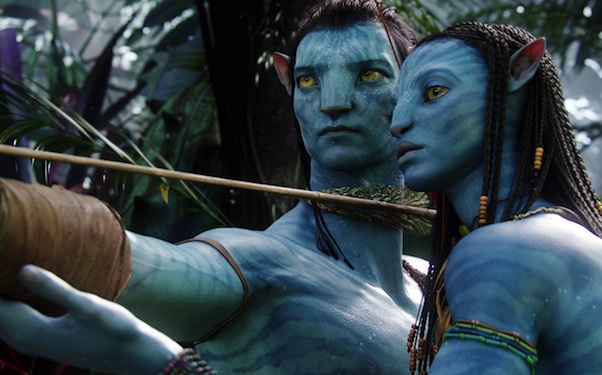 Posted by Matt Singer on
If you watched James Cameron's "Avatar" and thought to yourself "With the 3-D, virtual reality, and wild rides on the backs of dragons, this kind of feels like a theme park ride" you weren't alone. You know who else thought that? James Cameron. And he hooked up with the folks at Disney who gave him $400 million to make it a real theme park ride.
Disney announced yesterday that they're partnering with Cameron for an entire "Avatar"-themed land at their Animal Kingdom theme park at Walt Disney World. Construction is scheduled to begin in 2013 and last approximately 5 years (the deal leaves open the possibility of additional "Avatar" lands at other Disney parks). If the current calendar holds, that would put the opening some time in 2018, roughly three years after Cameron's third "Avatar" film is currently slated for release. In other words: it's a long ways off. It will be interesting to see whether "Avatar" is still a massive cultural force in seven years, and whether "Avatar 2" and "3" (both of which will be directed by Cameron) enhance or diminish its status amongst movie lovers.
Here's a Cameron quote on the project from Disney's press release:
"'Avatar' created a world which audiences can discover again and again and now, through this incredible partnership with Disney, we'll be able to bring Pandora to life like never before. With two new 'Avatar' films currently in development, we'll have even more locations, characters and stories to explore," said James Cameron. "I'm chomping at the bit to start work with Disney's legendary Imagineers to bring our 'Avatar' universe to life. Our goal is to go beyond current boundaries of technical innovation and experiential storytelling, and give park goers the chance to see, hear, and touch the world of 'Avatar' with an unprecedented sense of reality."
And that's the real question here, right? Just what will park goers find in this "Avatar" land? I don't know what is technologically feasible, but I know there are a lot of meaty possibilities in that first "Avatar" movie alone. How badass would it be to pilot your own AMP suit? Or fly on your own dragon (banshees in "Avatar"-speak) using some kind of combination of animatronics and 3D filmmaking? Or let's get really crazy: how about some kind of virtual reality helmet that actually lets you feel like you've got your own avatar? You enter some kind of Pandora lab, a pretaped video of Sigourney Weaver gives you some instructions, you strap yourself onto a gurney, and then presto chango, it feels like you're one of those big blue dudes. Impossible? Absolutely. But fun to imagine.
Cameron has had some success with theme park attractions in the past. He co-directed "T2 3D" for Universal, which is still going strong at their parks after fifteen years. A similar 3D movie would be a no-brainer with "Avatar," but given that the film itself is a 3D movie, there's not a whole lot of novelty in going to a theme park just to watch another 3D movie. Actually, the 3D invasion into movie theaters in recent years kind of diminished the novelty of all the 3D movies at theme parks like Disney. That's why I think whatever attractions that "Avatar" land contains, 3D is just going to be the tip of the iceberg.
Not iceberg. That was "Titanic." Wrong James Cameron movie. My bad.
What kind of "Avatar" attractions do you want to see at Disney? Tell us in the comments below or on Facebook and Twitter.