Anne Hathaway finally unveils her full Catwoman costume on the "Dark Knight Rises" set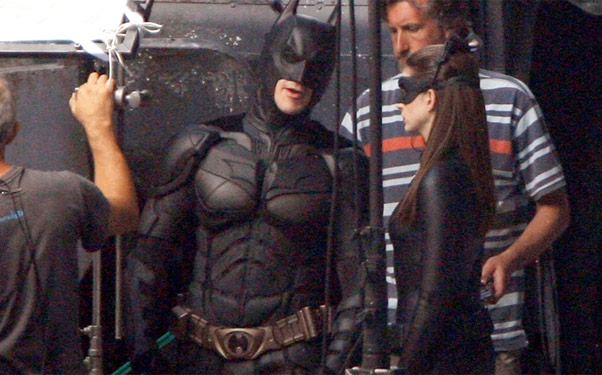 Posted by Aubrey Sitterson on
Even since the first photo of Anne Hathaway as Selina Kyle (AKA Catwoman) made its way to the internet, fans have been bitching and moaning about the costume's lack of ears. New photos of Hathaway on the set of "The Dark Knight Rises," however, show the suit looking much more cat-like, meaning that internet commenters can get back to complaining about how tall Tom Hardy isn't. (See how her costume compares to previous Catwoman outfits.)
The first shot of Catwoman featured Hathaway in a sleek black bodysuit, with only the costume's goggles pointing toward established depictions of the character. The somewhat nondescript costume led some to believe that it was perhaps a transitional look for the cat burglar, or that director Christopher Nolan might be moving further askew of more traditional looks for one of the most popular members of the Batman family. New photos form the movie's Los Angeles set prove that all the fan concern might have been for naught.
In new, spoilery images posted by Just Jared and SplashNews, Hathaway is seen with her goggles flipped up into what look a lot like cat ears. She's also seen sporting a cat-eyed domino mask, which makes her costume start to resemble the one worn by Julie Newmar as Catwoman in the Adam West "Batman" series – somewhat of an oddly campy reference point for Nolan's relentlessly straight-faced take on the Batman mythos.
In case these still photos aren't enough for you, a new furtively filmed YouTube video also shows Catwoman being embraced by Batman, albeit from a blurry distance and through a grate. Check it out below:
What do you think of Hathaway's costume now? Does the addition of ears and a domino mask make you more accepting of Catwoman's new look? Tell us in the comments below or on Facebook and Twitter.