That's what "Animal House" was missing: a laugh track!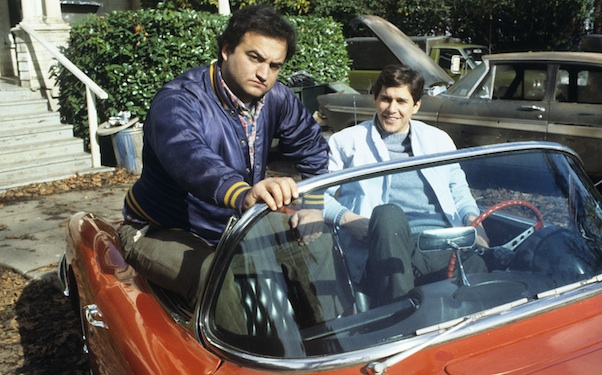 Posted by Matt Singer on
This week's installment in The A.V. Club's always essential Inventory column is called "Of '30 Rock's and 'Studio 60's: 38 TV Doppelgängers;" television series that premiered alongside a nearly identical twin — "ER" and "Chicago Hope," "Transformers" and "Challenge of the Go-Bots," and so on. It's a great list across the board, but the entry that really blew my mind was the one about "Delta House," the little-seen TV spinoff of "National Lampoon's Animal House," that aired on for one season on ABC.
"Delta House" is one of the most notoriously bad movie-to-TV adaptations of all time, but I'd never seen any of it until today. The Inventory piece included this embedded video clip which completely blew my mind. Why? There's John Vernon — a.k.a. Dean Wormer — sitting in his office, talking to some ROTC flunky, while from some distance plane of the space-time continuum, someone, somewhere is laughing. A laugh track? In the world of "Animal House?" I know laugh tracks were customary on all single camera sitcoms in the late 1970s, but slapping canned yuks on something so funny and anarchic as "Animal House" — even if it's just "Animal House"'s declawed, network TV equivalent — just feels like sacrilege. Take a look.
I realize it's a small sample size, but judging from that clip I don't know how the show even lasted thirteen episodes. It should have been cancelled before the first commercial break. How did this come from the typewriters of Harold Ramis, Douglas Kenney, and Chris Miller, the screenwriters of "Animal House?" It's inconceivable. I love the fact that there is a laugh track beneath that Dean Wormer scene, but the laughs are more chuckles and groans than full-on guffaws. Even the laugh track didn't find this stuff funny!
I encourage you to read all of this week's Inventory, which is loaded with great clips, including the lead actor of the TV spinoff of "Ferris Bueller's Day Off" calling a cardboard cutout of Matthew Broderick "two-dimensional" and then taking a chainsaw to it. What? Not funny? Must be because "Ferris Bueller" didn't have a laugh track.
What's the worst movie-to-TV adaptation of all time? Give us your pick in the comments below or on Facebook and Twitter.