ADAPT THIS: "The Homeland Directive" by Robert Venditti & Mike Huddleston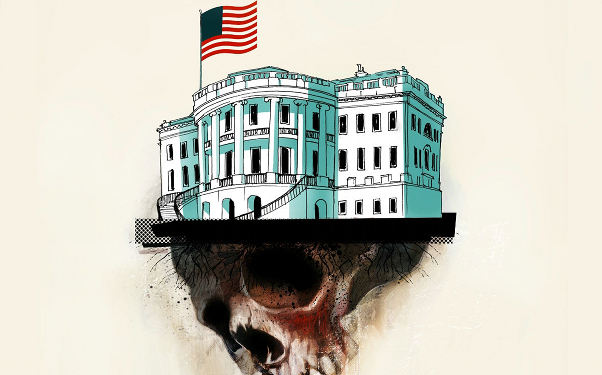 Posted by Rick Marshall on
With Hollywood turning more of its attention to the world of graphic novels for inspiration, I'll cast the spotlight on a new comic book each week that has the potential to pack a theater or keep you glued to your television screens. At the end of each "Adapt This" column, you'll also find some thoughts from the industry's top comic creators about the books they'd like to see make the jump from page to screen.
---
This Week's Book: The Homeland Directive by Robert Venditti & Mike Huddleston
The Premise: When a leading researcher at the Center for Disease Control is framed for the murder of her partner, she finds herself on the run with a trio of rogue federal agents out to expose a vast government conspiracy. With the combined forces of the U.S. government and a team of computer-information experts on their tail, the group must race against time to find the origin of — and cure for — a deadly virus poised to kill millions of people.
The Pitch: With "Contagion" hitting theaters this weekend, it's not hard to envision a thriller featuring a cast of government agents racing against time to prevent the spread of a terrible disease. Add an "Enemy of the State"-style conspiracy to the mix, and you've got a good handle on the appeal of The Homeland Directive.
Robert Venditti showed a knack for exploring complicated philosophical issues using fast-paced adventure in his previous graphic novel, The Surrogates, which was adapted into a 2009 science-fiction film starring Bruce Willis. In The Homeland Directive, Venditti offers up a more grounded story set in what he refers to as "the Orwellian present" — our modern era of digital transactions, cameras on every phone, and near-omnipresent surveillance.
The question posed in the story goes something like this: Can anyone really hide from the government at a time when face- and voice-recognition software has become an off-the-shelf purchase?
Along with tackling the balance between personal privacy and national security, Venditti's tale carries readers along for a hectic ride as its characters try to out-maneuver the government forces on their trail. Knowing that it's only a matter of time before they're cornered, there's a genuine sense of uncertainty as to whether the ragtag group will survive long enough to reveal the truth and clear their names.
The Closing Argument: The Homeland Directive mixes the conspiracy theory of "Enemy of the State" with the tense, against-the-clock action of "24," then throws in a dash of "Contagion" for terrifying, ripped-from-headlines danger.
In many ways, The Homeland Directive is actually superior to The Surrogates in that he was clearly able to pay more attention paid to pacing and character development this time around, and it's as easy to see the story playing out on a movie screen as it is to see it unfold on the page.
---
This Week's Comic Creator Recommendation: Hellblazer
"If I was an entertainment magician for DC/Vertigo, I'd team with BBC America for a 'Hellblazer' series immediately. There's a wealth of great source material, and BBCA is producing some really amazing shows right now. If you do the series right, it could put lightweight stuff like 'Supernatural' out to pasture without even blinking. The casting is key, and the list of lead actor prospects could probably be debated for days. Personally, I'd like to propose a dark horse candidate: Rupert Penry-Jones. He plays Adam Carter on 'Spooks' (or 'MI-5' as we know it here in the U.S.), and could easily take on the love-to-hate-him role of John Constantine. "
– Brandon Jerwa, author of several tremendously popular arcs of the Battlestar Galactica and G.I. Joe comic book series, as well as a co-writer for DC Comics' The Shield miniseries. Jerwa is currently developing a documentary titled "Untold Tales of the Comic Book Industry," which fans can support via a Kickstarter fundraising campaign.
---
Would "The Homeland Directive" make a good movie? How about a "Hellblazer" television series? Chime in below or on Facebook or Twitter.