ADAPT THIS: "Lucid" by Michael McMillian and Anna Wieszczyk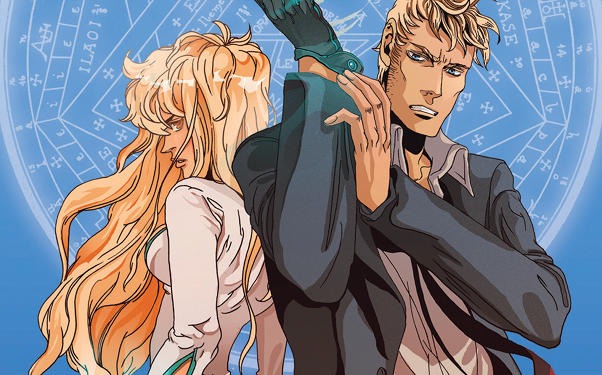 Posted by Rick Marshall on
With Hollywood turning more of its attention to the world of graphic novels for inspiration, I'll cast the spotlight on a new comic book each week that has the potential to pack a theater or keep you glued to your television screens. At the end of each "Adapt This" column, you'll also find some thoughts from the industry's top comic creators about the books they'd like to see make the jump from page to screen.
---
This Week's Book: Lucid by Michael McMillian and Anna Wieszczyk
The Premise: In a parallel universe where governments employ sorcerers to protect their citizens from threats both domestic and abroad, Matthew Dee is America's newly appointed "Protector of the Realm." A mix of espionage thriller and fantasy, Lucid follows Dee as he uncovers a dark conspiracy that threatens both the nation and the world as he knows it.
The Pitch: Created and written by "True Blood" actor Michael McMillian, Lucid is a wild, alternate-world adventure that takes some of the best elements of the spy genre and adds a liberal dose of magic to keep things fresh.
In the first four-issue miniseries, we're introduced to Dee before he becomes the nation's top sorcerer, and it's easy to see the character's big-screen potential. A well-dressed, fast-thinking secret agent who's equally adept at casting spells and kicking butt, Dee is a James Bond-style action hero, but with a twist — he's also an intelligent, well-meaning guy. Of course, that doesn't mean he's without a few skeletons in his closet, and the first story arc makes it easy to see why a "Lucid" movie would be more than just an explosion-filled, popcorn blockbuster.
Of course, with any alternate- or future-world tales, the setting is often as important as the cast of characters, and McMillian has crafted a world that's just different enough from our own to win over fans of the fantastic, while grounded enough to appeal to the average audience. Think "Fringe" with magic instead of science, and you're on the right track.
In much the same way that shows like "True Blood" present a more adult-oriented, gritty version of magic and paranormal happenings, Lucid offers a world where magic isn't all hand-waving and bubbling cauldrons, but rather a tool — and more often than not, a weapon — with power determined by those who wield it. Add to all that a complex political conspiracy, some procedural drama, and some frantic action sequences, and it's easy to see why Lucid has all the makings of an edge-of-your-seat, effects-driven adventure on the big screen.
The Closing Argument: I mentioned earlier that Lucid is a bit like "Fringe," except magic is substituted for science — and that's a comparison worth reiterating. Matthew Dee's job as "Protector of the Realm" is equal parts James Bond super spy and intense procedural investigation, but in this case, the tools of his trade aren't limited to laser pens and electron microscopes. By adding magic to the mix, Lucid has opened up a world with immense possibilities.
Given the right leading man, it's easy to see a "Lucid" movie as franchise material that kicks things off with an adventure that introduces Matthew Dee and his world, and then kicks things into high gear with all manner of threats — whether magic or otherwise.
---
Would "Lucid" make a good movie? Chime in below or on Facebook or Twitter.