ADAPT THIS: "I Kill Giants" by Joe Kelly and J. M. Ken Niimura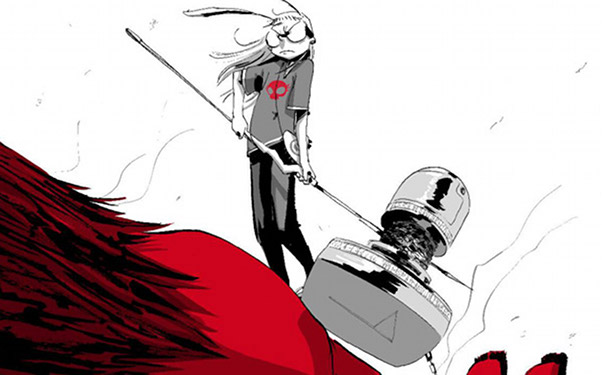 Posted by Rick Marshall on
With Hollywood turning more of its attention to the world of graphic novels for inspiration, I'll cast the spotlight on a new comic book each week that has the potential to pack a theater or keep you glued to your television screens. At the end of some "Adapt This" column, you'll also find some thoughts from the industry's top comic creators about the books they'd like to see make the jump from page to screen.
---
This Week's Book: I Kill Giants by Joe Kelly and J. M. Ken Niimura
The Premise: A young girl's fantasy world filled with pixies and elves becomes intertwined with her real-life struggles as she copes with problems at home, difficulties at school, and the ever-present threat of giants. Fortunately, she's got a magic hammer with the power to smite even the biggest creatures — but what about her other problems?
The Pitch: Joe Kelly and J.M. Ken Niimura's 2008 series found itself on quite a few "Best Of" lists after it was published in collected form the following year, and it's easy to see how the connection it found with readers could translate to the screen.
The story follows Barbara Thorson, a clever fifth grader who sees faeries and goblins around every corner, and claims to have made a career out of hunting giants. To her, this fantasy world is not just real — it's her burden to shoulder as the only person capable of seeing the magical things happening around her, her family, and her friends.
And while it's easy to dismiss her visions as the stuff of an overactive imagination, Kelly and Niimura leave some question as to which is more real: the homework and bullies, or the gnomes and dragons.
In many ways, I Kill Giants manages to blend the fantastic elements of a Guillermo Del Toro or Peter Jackson tale with a more grounded, emotional, coming-of-age story. The scale of the fantasy elements is impressive, with everything from tiny pixies to massive, world-shaking titans wandering in and out of Barbara's daily life.
However, it's these fantastic elements, while entertaining in themselves, that often serve to soften the more personal, tragic elements of the narrative.
Through it all, Barbara remains a character readers can identify with despite her battles with fantastic creatures, and it's not too hard to see the potential for a great performance out of some young actress playing the giant-killing hero. Ample opportunities for effects-driven set pieces and intense emotional moments make this a wide-ranging opportunity for studios, actors, and audiences alike to produce a family-friendly blockbuster.
Great stories are often built around a character's journey, whether physical or emotional, and the path Barbara follows in I Kill Giants is the sort that hooks you early on and carries you along until the very end, eager to discover the next obstacle she encounters and how she'll overcome it. And like many great stories, it leaves much to the imagination regarding what's real and what is simply a product of its character's perspective, constantly seeding the narrative with hints and misdirection until the time is right for the big reveal.
In the hands of the right filmmaker, I Kill Giants is a project that could mesh the best elements of fantasy with a compelling, grounded drama, and tell a story that everyone of all ages can connect with in some way.
The Closing Argument: Probably the best way to conceive of an "I Kill Giants" movie is to imagine something thematically similar to the 2009 adaptation of "Where the Wild Things Are," except in this case, much of the narrative unfolds in the real world. Rather than interpreting real-world issues through fantasy (as was done in "Where the Wild Things Are"), an adaptation of I Kill Giants would show the audience its fantasy elements through a real-world lens.
What's important, however, is that any adaptation of I Kill Giants prioritizes Barbara's emotional journey over the eye-catching fantastic elements of her life. With the right person behind the camera, there's a great opportunity here to tell a touching story that both tugs at the heart and offers quite a bit of eye candy.
---
Would "I Kill Giants" make a good movie? Chime in below or on Facebook or Twitter.