ADAPT THIS: "Cyclops" by Matz and Luc Jacamon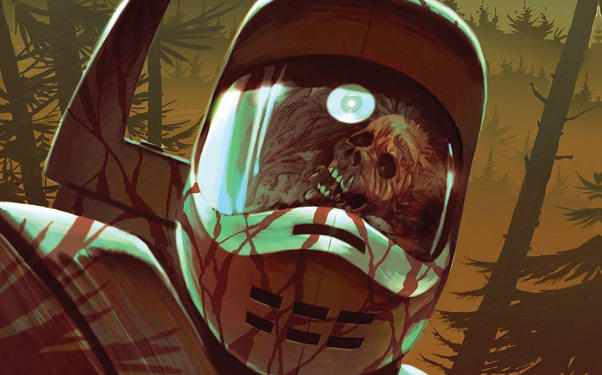 Posted by Rick Marshall on
With Hollywood turning more of its attention to the world of graphic novels for inspiration, I'll cast the spotlight on a new comic book each week that has the potential to pack a theater or keep you glued to your television screens. At the end of each "Adapt This" column, you'll also find some thoughts from the industry's top comic creators about the books they'd like to see make the jump from page to screen.
---
This Week's Book: Cyclops by Matz and Luc Jacamon
The Premise: In 2054, the U.N. has decided to outsource its peacekeeping missions to private security firms. Down on his luck and needing some steady income, Doug Pistoia joins up for the paycheck, but soon finds himself wearing one of the signature, camera-equipped "Cyclops" helmets that feed the public craving for entertainment with each mission he and his unit take on. As he struggles to walk the line between celebrity and soldier, Pistoia must also contend with growing doubts about his role in society. Is he really keeping the peace, or just keeping the ratings high?
The Pitch: It's not hard to see the relevance of a story like Cyclops in today's culture of reality television and privatized military forces, but it's the additional science-fiction element that really makes Matz and Jocamon's story a unique subject for adaptation. While the book was optioned back in 2008 by Warner Bros. with "The Wolverine" director James Mangold attached to direct, there's been little movement on the project in recent years — so now seems like as good as time as any to explain why they should move forward with a Cyclops movie.
Like many of the best commentaries on modern society and culture, Cyclops' message is delivered via strong characters operating in a world with just enough tweaks to make it different — but not entirely unlike — our own world. Along with the camera-equipped "Cyclops" helmets, the soldiers of the story's not-too-distant future sport uniforms with "active camo" that turns them invisible and self-healing systems that treat minor wounds. The sleek, high-tech drop-ships they pilot and the weaponry they wield only serve as added reminders that this, in fact, a story about the future.
While Matz could easily resort to hitting readers over the head with the philosophical implications of a world where the lines between entertainment, news, and war have been irreparably blurred, he keeps the story focused on his main character, Doug Pistoia, who's neither a super-soldier nor a ready-made celebrity. He's a regular guy, in fact, and it's the sort of role an actor could shine in — mixing explosive action with tense dramatic moments and clever dialogue.
As Mangold stated in the initial announcement of the book being optioned, the story has all the makings of the best summer blockbusters, appealing to both a mainstream audience interested in the action and sci-fi elements as well as theater-goers intrigued by the story's thought-provoking look at an alternate but not completely inconceivable future.
The Closing Argument: In his introduction to the most recent collection of Cyclops, Matz mentions that his inspiration for the story came from Paul Verhoeven's storytelling style in the "Starship Troopers" movie and the dystopian future of "Blade Runner." Both projects are a great reference point for anyone pondering the appeal of Cyclops, as it manages to offer the best parts of both films in comic book form, and could very easily do the same as a live-action film.
At a time when news channels fight amongst themselves to show footage from a missile-mounted camera homing in its target, the world of Cyclops seems closer than ever — and a story like this offers an exciting way to explore the implications of such a world.
---
This Week's Comic Creator Recommendation: Queen & Country by Greg Rucka and various artists
"This is a teensy bit of a cheat, since people have long wanted to make Rucka's gritty, glorious British spy series into a movie. In fact, Blue Beetle and Dungeons and Dragons writer (and Leverage showrunner) John Rogers was hired to write a script, way back when. But I think the ongoing missions of Tara Chace and her fellow MI-5 'Minders' would make for an even better TV show — especially since, as Rucka has admitted, it was inspired by a similarly gritty and glorious TV show called 'The Sandbaggers.' Each week, we'd watch as the wonderfully damaged Chace and her cronies while the time away in a shoddy office, drinking hard, sexing harder, play-acting at life, only to get sent off to foreign lands for people that need killing. For Queen and Country. Dear BBC America: Duh."
– Marc Bernardin, staff writer on the current SyFy series "Alphas," and author of multiple comic book projects for Marvel, DC, Top Cow and other publishers, including The Highwaymen, Genius, The Authority, and JLA.
---
Would "Cyclops" or "Queen & Country" make a good movie? Chime in below or on Facebook or Twitter.