Five 'Back to the Future' technologies we want to have now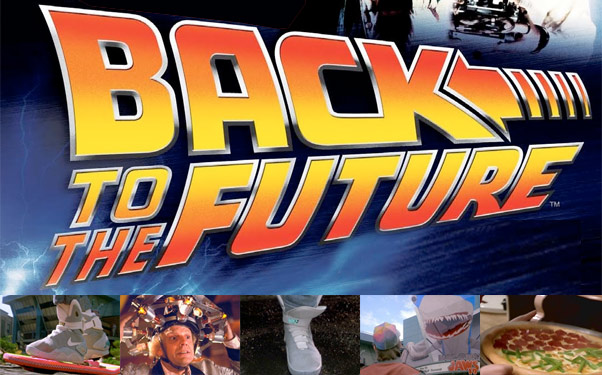 Posted by Brian Warmoth on
Nike didn't wait until 2015 to make their "Back to the Future Part II"-inspired Nike Mags available, instead opting to put their kicks on the eBay auction block last week. That's all well and good, and with any luck the Michael J. Fox Foundation for Parkinson's Research will rake in a pile of helpful cash because of them.
The real-world Mags don't do everything that they were designed to do in the 1989 film, however, and Robert Zemeckis' one-of-a-kind trilogy introduced many other marvels of engineering and design that we would gladly drive our DeLoreans down to the mall to pick up. Here are five such technologies that are as of now still unavailable.
---
POWER LACES
Anyone with chronically crunched heels on their sneakers knows the one key feature separating Nike's new shoes from the shoes that Marty McFly actually put on in "Back to the Future Part II"–power laces. The moment he slipped his feet into the iconic foot Corvettes, they instantly contracted to the perfect size and showed the world how awesome an age of footwear without knot-tying could be.
---
HOVERBOARDS
When it comes to true drool-worthy toys from these films, let's face it, no item packs a greater cool factor than Marty's hoverboard. While kids in theater audiences were still stuck with creaky wheels and Pogo Balls, "Part II" taunted a generation with an unbeatable X Games event we have yet to see realized.
---
BRAIN WAVE ANALYZER
Doc Brown's giant snowflake-looking hat was far less fashionable than Marty's Nikes, and it turned out to be quite a bit less dependable as well. Nevertheless, you know you would wear this twinkling circus tent of metal beams if it truly allowed you to read other people's thoughts.
---
HOLOGRAM BILLBOARDS
3-D movies are difficult to market in a 3-D world, but how many more ticket-buyers would check out "Piranha 3DD" if it were teased as well as "Jaws 19" was when its Max Spielberg-directed shark nearly swallowed Marty? This is the future of film advertising right here.
---
DEHYDRATED PIZZA
One step beyond astronaut ice cream, the tiny pizzas of the BTTF universe proved to be the height of pizza preparation convenience. A dehydrated Pizza Hut pizza requires a Black and Decker Hydrator to fully inflate, but once it does, it grows large enough to feed a family.
---
What technologies from "Back to the Future" would you like to see on store shelves? Let us know below or on Facebook or Twitter.