Will Arnett and Jason Bateman pair with Activision for "Call of Duty" content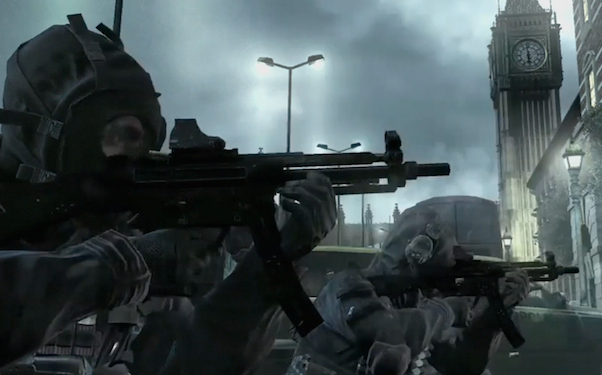 Posted by Evan Narcisse on
Activision's looking to make this year a banner one for the best-selling "Call of Duty" franchise. "Call of Duty: Modern Warfare 3" ramps op the action to heretofore never-before-seen stakes, thrusting players into a multi-front conflict erupting in New York, London, Prague, Berlin and other major Western cities. Online players will be able to compare stats, form groups and mine through the game's performance data to their hearts' content on the game's "Call of Duty" Elite social network, already in beta testing with last year's "Black Ops" title. And the publisher's taking things real-world with the upcoming "Call of Duty XP" fan fest on Labor Day weekend, where attendees can shoot it up in paintball matches massive reproductions of multiplayer maps and compete in a $1 million dollar tournament.
The Elite social platform's going to be a key part of the "COD" strategy moving forward, and Activision's announce that they'll have a premium tier of the service that fans can shell out an undisclosed monthly fee for. It's also been mysterious as what extras premium Elite members would be getting for their money. Possibilities like celebrity-focused game-with-fame sessions and early access to DLC have been bandied about. Now, via The Hollywood Reporter, comes word of a deal that might be bound for the premium Elite channel.
THR reports that Will Arnett and Jason Bateman will be developing exclusive content for "Call of Duty" Elite platform through their DumbDumb production company. NO word on whether either of the stars will star in the programming, but Arnett already has close ties to Infinity Ward, one of the three dev studios making "COD: MW3." He told THR:
"I consider myself a gamer," said Arnett. "When you look at the time spent gaming, versus other entertainment outlets whether it's watching TV or watching movies; for me, I probably spend more time gaming. I want my videogames to be entertaining. You realize that videogames are a real outlet that needs to be taken seriously."
The corollary to Arnett's remarks is that there's more media being created in the orbits around phenomena like "Call of Duty," "Halo" or "World of Warcraft." Most gamers know that Austin-based collective Rooster Teeth used "Halo" to create a comedy empire that started with "Red vs. Blue." In much the same way, Felicia Day became an internet success with "The Guild," a webseries built around the lives of people who play an MMO suspiciously similar to "WoW." Kevin Tancharoen's unofficial "Mortal Kombat" film earned him a sanctioned web series–"Mortal Kombat: Legacy" from Warner Brothers, too.
And, no surprise, "Call of Duty" homages abound on YouTube. The "Find Makarov" short that debuted earlier this year garnered a massive following for the We Can Pretend studio that created it. Activision took notice and invited the Toronto-based shop to show off their latest "COD"-derived work at the XP fan fest.
What's important about this DumbDumb/Activision partnership is the involvement of established Hollywood talent in direct-to-web video programming. The fruits of their labor will probably follow the low cost, down-n-dirty model that thrives on the web, but it'll be interesting to see if Arnett and Bateman will loop in any other self-identified gamers from Hollywood to get involved. Folks lucky or devoted enough to make the pilgrimage to Call of Duty XP 2011 will get a glimpse of the DumbDumb "COD" Elite project and might even get a chance to take out Arnett in a multiplayer match to boot. As for the game at the center of all this, "Call of Duty: Modern Warfare 3" comes out on November 8 for multiple platforms.
What are your expectations for Will Arnett and Jason Bateman's partnership with "Call of Duty"? Let us know in the comments below or on Facebook or Twitter.