"Whisker Wars": The Recap of America's Beardsman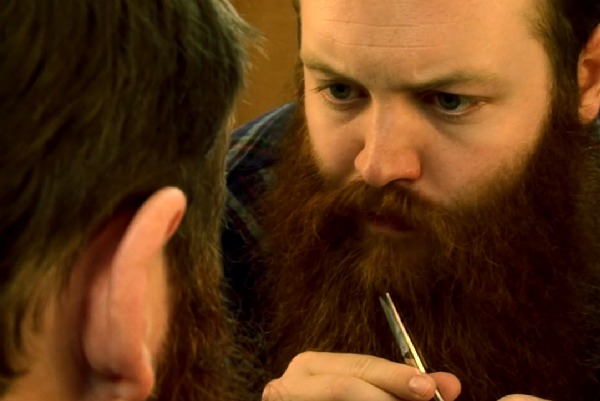 Posted by Melissa Locker on
Bearding is a sport. The competition is fierce, the mustaches are waxed, and the beards are very very long. Welcome to "Whisker Wars," where we go behind the scenes and into the world of competitive facial hair growing. We will be recapping each episode of this season, so if you miss an episode, we got you covered.
The first person we meet in the premiere episode of "Whisker Wars" is Phil Olsen, founder and self-appointed captain of Beard Team USA. While you may be able to name a few Olympic athletes, soon you will be able to name every member of the team who are growing beards for America. Olsen reminds us that the global field of competitive bearding has been dominated by Germany for far too long. Now there is one year until the next world competition in Norway and the upstart Beard Team USA is hoping to unseat the champions. To prepare the team for battle, Olsen is staging the first ever U.S. national championship in Bend, Or. His ringer in the competition? Jack Passion, the first American to ever take gold in the Full Beard Natural category of the global competition. And Jack didn't just do it once, he did it twice. Now Passion has decided to turn his fame into a career. What color is his parachute? Professional bearding. Based on his credentials as a world champion, Jack is attempting to become the first bearding professional. To further his cause and help garner sponsors, he wrote a book called "The Facial Hair Handbook." Unfortunately, the decision to go pro has earned a lot of ire from his fellows bearders, who think Jack is taking himself way too seriously.
For Jack, a win in the national competition in Bend would help cement his title, but victory isn't guaranteed. He faces some serious competition in Myk O'Connor, of Brooklyn, New York with his full-sleeve tattoos, and full, lustrous beard. Also on the radar? The members of the Austin Facial Hair Club, which features some fantastic beards including Bryan Nelson's red menace. Complicating matters for Phil as he tries to put together Beard Team USA is that Austin isn't too wild about Jack. They think Bryan should have taken his crown during the competition in Alaska and they hold a grudge. Also in Austin is bearded politician Allen Demling who wants to follow in Abraham Lincoln's footsteps, but with a much much bigger beard.
Out in California is Aarne Beilefeldt whose long beard is frequently kept in a ponytail in order to stay out of harm's way as he maintains his wooded property and stays well off the grid (except for the tv crew crowded inside his small cabin, of course.) Even though Aarne is off the grid, he knows about Jack Passion and doesn't hesitate to take a few jabs at the reigning champion and his professional pursuits.
A gallery opening in New York City dedicated to the art of the beard brings many of the competitors to Manhattan. When Jack spots a portrait of his Austin-based beard rival Bryan, he takes a moment to talk a little smack. Unfortunately, a few Austin Facial Hair Club boosters are in the crowd and seize the moment to further the ill will between the parties. Fight! Fight! Fight!
Back in Austin, the club members remind us of how hard it is to eat with a beard. Ribs? Nope. Only Melitus Callahan-Barile with his Alaskan whaler beard can manage to scarf down a few of Austin's famed barbecue ribs. While the Austinites are eating, Jack Passion is getting his game face on. He's back in San Francisco and is getting ready to compete in the San Francisco Beard and Mustache Competition. One unexpected contender? Austin's Alex Laroche with his freestyle beard. They play nice and bid each other luck, but even though they are competing in different categories, Alex has a plan to take Jack down. In this competition, the crowd picks the winner. So when Alex throws his popularity behind a rookie, he hopes the crowd will follow. They do, and Jack goes down.
Jack is shaken by the loss, because he felt the crowd voted against him just to see someone else win. Phil Olsen hoped to cheer up his star by arranging an opportunity for Jack to seek advice from world freestyle beard champion Willi Chevalier. Chevalier suffered a tragic accident that almost cost him his famed beard, but he fought back and reigns supreme. Chevalier offers Jack some words of wisdom, but Jack makes a controversial decision: He's not going to compete in the national championship. He claims his decision to host the competition is to give someone else the chance to win, but Austin sees it as a sign of fear. Yep, they think Jack's scared of Austin.
At the national competition, the whisker warriors get ready for battle. They will compete in different categories, including mustache, partial beard, full beard, and freestyle, but all their beards will be judged on sheen, style, length, fullness, and luster. Austin's Alex Laroche is angling for the crown in freestyle, but Willi Chevalier has come for the one title he does not have yet. Willi takes it easily with his perfect, complex beard. The full beard category has the fiercest contenders: Bryan Nelson, Myk O'Connor, Allen Demling, and Aarne Bielefeldt. To the shock of the Austin crowd, Bryan is ousted before the finals. Allen Demling takes second place to do Texas proud and then in an upset, Aarne Bielefeldt beats Myk and the rest of the crowded, bearded field. This is Aarne's first win, but it's a hard blow for Myk. Instead of beating crushed by the defeat, though, Myk is more determined than ever to be at his best when Beard Team USA takes the stage in Norway.
"Whisker Wars" airs on IFC on Fridays at 10:30 p.m. ET