"Whisker Wars" Interview: Meet Jack Passion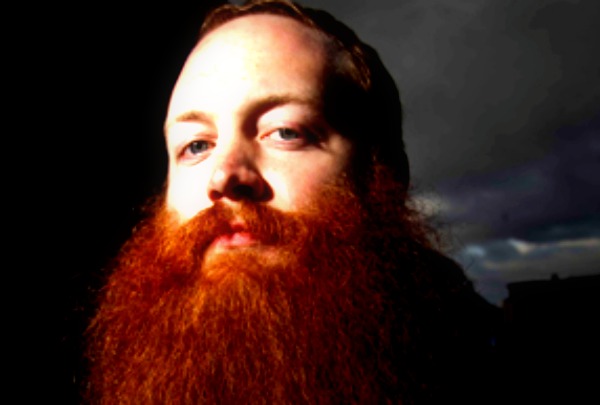 Posted by Melissa Locker on
As the two-time World Champion in the Full Beard Natural category, Jack Passion's long, brilliant, crimson beard is the beard to beat at most competition. As you will see in "Whisker Wars," for Jack, bearding is more than a hobby, it's a potential livelihood. Jack wants to turn his successes on the competitive stage to profit through sales of his "Facial Hair Handbook," personal appearances and endorsement deals. Jack Passion is determined to become the first "Professional Beardsman." In order for Jack to succeed, he must maintain his status as top beardsmen and protect his title from emerging rivals.
How did you end up in the world of competitive facial hair growing?
I had a beard and I was in college. A freshman in college. My beard was very young then. I heard about this competition in Carson City, Nevada in 2003, but we didn't go at the last minute. Looking back, I would have done pretty well. The next competition was in Berlin and I just went. I thought it would be an awesome story to tell my grandkids one day, that I went to a world beard and mustache competition. So I went, and I got third place, as a 20-year old American kid. But since I didn't speak any German I didn't really get how rare that was. Then I went to Brighton [in 2007] and got first place. Then I wrote a book called The Facial Hair Handbook. Then in Alaska [in 2009], I won first again and now I'm stuck with the beard. Stuck isn't the word I want to use, because I've made a lot of friends and it's been a great experience.
Do you ever feel like shaving?
No. I do sometimes think what it would be like not to have two-and-a-half feet of red hair in front of me. It informs people's opinions right away. It's like taking a puppy everywhere you go. People don't always want to see a puppy in a 4-star restaurant you. Beards say more about the inside of a person than the outside. I try to present myself and my beard in a positive light. Beards aren't just for hippies and bikers and grungy guys, but for every one of me there's a bunch of people with beards who don't want to integrate into society. Also, my beard just gets a lot of attention. I can't even just run to the grocery story. I have to budget a lot time for pictures. So I do wonder what it would be like to not have a huge beard.
How often do you get mistaken for a member of ZZ Top?
I don't get mistaken for ZZ Top. I mean, people make jokes about it, or reference it. I have tried to play that card before, though, but I just look too young. People don't buy it. Until Whisker Wars airs [Fridays at 11 p.m. ET on IFC], it was the only pop culture reference for beards. ZZ Top was the only band people associated with beards. And that's not a bad thing. They and their beards are really high profile. And Billy Gibbons has a big red beard. So yeah, I do get it all the time.
How did you meet Phil Olsen?
I met him in the Frankfurt airport in 2005. I had talked to him on the phone and he wanted to meet. He had organized a trip to Germany for the World Beard and Mustache Championships in Berlin. That's when Beard Team USA was starting to come out.
Do you have a day job?
I live off my book, The Facial Hair Handbook. And I use my time to work on other projects. Most notably another book. I'm a writer. There are two currencies: money and time. I'm very rich with time. I have a cool and good life. It's why I get to travel to bearding competitions. I take a lot of time off. It's a good job for a guy with a big beard. You don't see people with beards like this in the workplace.
Tell me about Beard Team USA
It's an umbrella organization for all the American competitors who compete in the World Beard and Mustache Competitions. It's very loose. Almost unofficial. The Germans who invented the sport of bearding really have this club mentality, but the U.S. is a huge country and is spread out all over the place. It's hard to unite everyone or have meetings. The name is an homage to the Olympics. We're the team representing the U.S. in competition.
But you are also quite competitive with each other
It's a sad reality of the human soul that people become jealous and exploit opportunities to claim power, which is fueled by their own ego and vanity. There is competition amid the teams. But compare it to the NFL. You want to be on the team, but you also want to be a starter, you want to play. Some people don't compete in the competitions seriously, they just go to have a good time. Other people go to compete and only care about beating Jack Passion. Which … I mean, that attitude has to be stamped out. But television is more compelling when there are bad apples. I can't let their negative attitudes prevent me from having a good time.
What do you use to keep your beard in tip-top condition? What's your daily routine?
My book, The Facial Hair Handbook, is divided into two phases: offense and defense. For me, as a competitor, it's so much more important how I eat and how I take care of myself. Everything you eat or drink is reflected in your beard. I can carbon date my beard: This is when I was eating sugar, this is when I was drinking coffee or had a soda. If you grow grey hair the first time it's easy to take care of. My beard is always clean, I condition it, I brush it, I stay after the split ends. The mainstream has lost the knowledge about beard care, because people started shaving. Before you could go to the barber and they would care for your facial hair. Now sacrifices have to be made to look awesome. I take cold showers. I use apple cider vinegar and I condition my beard. I only use all-natural products. I don't put anything on my hair that I wouldn't put in my mouth.
Do you really not eat sugar or drink coffee?
Sugar will grow bad hair, but I'll drink coffee now and again, but it's a constant attack on your adrenal system. But it's a personal thing. There are plenty of guys in the facial competition world who smoke, eat candy, etc. But they aren't the ones winning. They aren't the top competitors.
What's the hardest thing to eat with a beard?
Soup is a hard one. Huge burgers. Corn bread. Ribs. Anything wider than your mouth. I like to use straws. I like things that you can cut up with a fork. But, man, I haven't had an ice cream cone in eight years.
Do your parents understand your career path?
They have known me as long as anybody. I think …well, we sometimes disagree on things, but they must have figured out at some point in my childhood that I am fiercely independent and I'm going to be successful in whatever I choose to do.
They would love to see me go to law school, but they are equally impressed that I have risen to the top of this field. They just want me to be successful. I've got everything planned out. They have nothing to worry about. Maybe they don't understand, but I'm happy, so they are.
Get Whisker Wars in your inbox and subscribe to other IFC newsletters here
New episodes of "Whisker Wars" air on IFC on Fridays at 11 p.m. ET