Exclusive: Cameron Crowe on the soundtrack of "We Bought a Zoo" and why it sounds different than anything he's done before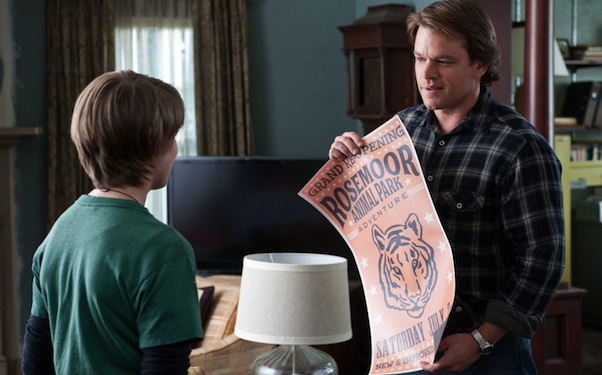 Posted by Matt Singer on
You think of Cameron Crowe movies, you think of the music in Cameron Crowe movies. John Cusack and the boombox in "Say Anything…" Stillwater singing "Tiny Dancer" on the tour bus in "Almost Famous." Orlando Bloom's mixtape roadtrip at the end of "Elizabethtown." Nobody does movie music quite like Crowe. That's why we're wrapping up our multipart interview on his new movie "We Bought a Zoo" (you can read parts 1 and 2 here and here) with his thoughts on its soundtrack, which Crowe says is totally different than anything else he's done as a director.
A big reason why is Jónsi, the singer and guitarist from Icelandic rock band Sigur Rós, who is serving as "We Bought a Zoo"'s composer. Crowe said he wanted him to score the film, after listening to his music on set while he was shooting.
"We fell in love with the music of Jónsi and Sigur Rós just as an environment while we were making the movie," Crowe explained. "And about halfway through the edit it became obvious that I had to ask if Jónsi himself would come score it. I wrote him an email and reached him in Iceland. He asked to read the script and I sent him the script and streamed him a scene and he got on a plane and came from Iceland. He wrote the theme for the movie immediately and we've been living in this intoxicating world of his music in the movie ever since."
Asked whether the only music in the film would be Jónsi's, Crowe replied "There are a few other songs, but it's different from other stuff that I've done that's felt like a mixtape or a radio station with a lot of different [music] in it. That's kind of the way I've always approached it, but this is definitely Jónsi creating the overall musical character — and it is like a character, and there a few records along the way. I've never done it like this before and it's really exciting."
Searching for a point of comparison for his unusual approach, Crowe invoked the name of another director who knows a thing or two about movie music: Wes Anderson. "It's probably like "Royal Tenenbaums"' relationship between records and Mark Mothersbaugh's stuff," Crowe said. "It's probably a little more that that, but a similar relationship. Where Mothersbaugh created that joyful, whimsical, happy, sad exuberance — that's Jónsi."
No word from Crowe yet on what other artists might be contributing to the "We Bought a Zoo" soundtrack, mostly, he told me, because they haven't asked all the artists yet ("They could say no, and that would be embarrassing," he laughed). Plus, the already limited roster of additional musicians keeps shrinking because Jónsi keeps writing new pieces of music. "What I like, though," Crowe added, "is it has a real strong musical feeling, as strong as anything I've ever done."
So what's next for Crowe, once this project is done? Asked whether he'd be resuming work on his Marvin Gaye biopic, Crowe instead told me about a brand new project he's started. It came about, he said, "from auditioning and working with a bunch of actors for 'We Bought a Zoo.' This woman that I work with, Gail Levin, is a great casting director. She's always finding new faces. The kids she found for 'We Bought a Zoo' are so exciting. We met with all these actors, and they would leave the room and it was a situation where I would turn to Gail and say 'They're not right for this one, but I want to write something where we can work with that person.' That was the genesis for writing a whole new script which I've been working on while we were doing 'We Bought a Zoo' and finishing this Pearl Jam movie."
It sounds like whatever this upcoming project is, it's going to see Crowe return to his roots in teen-driven storytelling. It will also be his fourth movie in a little more than a year, a huge output for a director whose last film opened in 2006. "I'm trying out this prolific thing," Crowe admitted. "The thing about being prolific? It's a lot of work."
"We Bought a Zoo" opens December 23. What's your favorite Cameron Crowe soundtrack? Tell us in the comments below or on Facebook and Twitter.