"Underworld: Awakening" trailer delivers vampire vs. werewolf action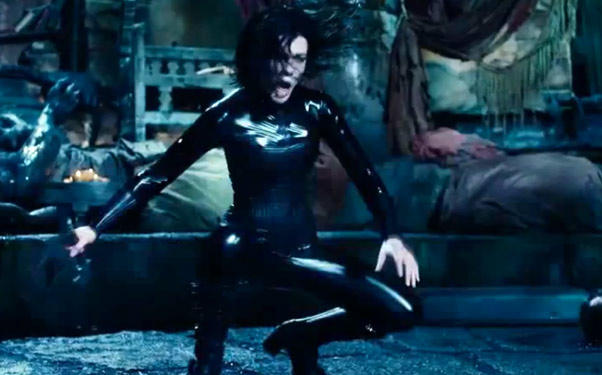 Posted by Aubrey Sitterson on
The "Underworld" movies boast hands-down the best-worst high concept this side of "Turok": Vampires vs. werewolves. What's more, the films run down a checklist of everything you need to make a successful action movie in the 2000s, including a sexy European broad in black leather, gun fu, bullet time and absolutely everything run through cool blue filters. So, whatever you and your namby-pamby college-boy opinions have to say about the first three "Underworld" movies, you're wrong, and you damn well better start getting excited for the fourth.
"Underworld: Awakening" sees the return of Kate Beckinsale's vampire "Death Dealer" Selene, who was notably absent from the third film, "Underworld: Rise of the Lycans," which detailed the back-story of the franchise's werewolves. In the movie, Selene awakens after a 15-year sleep, and then pretty much immediately get down to the very serious business of killing pretty much everybody.
The film's story follows Selene's search for her teenage vampire/Lycan hybrid daughter, and their subsequent attempts to stop a company from creating some type of super Lycans. The trailer, which you can and should check out below, mostly focuses on Selene killing people, but we're sure there's some very subtle, very insightful commentary about the United States health and pharmaceutical industry. That, or just a ballsload of monsters fighting each other. Either way, we're onboard.
What do you think about the trailer for "Underworld: Awakening"? Are you too jaded to sit back and just enjoy a sexy lady fighting giant werewolves? Let us know below or on Facebook or Twitter.