Francis Ford Coppola's "Twixt" trailer bites in the best way possible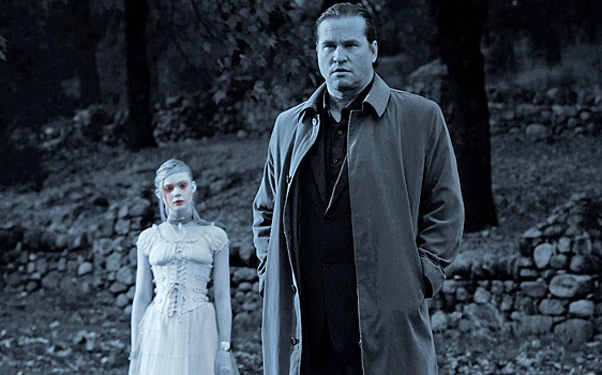 Posted by Matt Singer on
This looks flat-out fantastic.
Here is the trailer for Francis Ford Coppola's "Twixt." So far, I like everything about this movie. I dug the funky photos. I'm totally intrigued by Coppola's ambitious plan to remix the movie live in theaters as part of a special roadshow tour. And now I really like this trailer, which invites us into the world Val Kilmer's hack horror writer Hall Baltimore (true story: I was in a band in high school called Hall Baltimore*) as he investigates the vampire-related death of a young girl, played by Elle Fanning.
What particularly intrigues me about this movie is the nakedly autobiographical elements of Baltimore's plight. When Kilmer looks into the camera and says "I want to write something personal, something for me…" and "I write because of the incessant financial burdens than hound me," that sounds to me like Coppola speaking through Baltimore. Even though he directed one of the most successful franchises in history (that would be "The Godfather," for the none of you that haven't seen it), Coppola was always scrambling for money throughout his career. He only made "The Godfather" in the first place to ease the mountains of debt his company, American Zoetrope, had piled up in the late 1960s after Warner Brothers killed a distribution deal with the fledgling indie studio following the flop of its first release, a weird sci-fi movie called "THX 1138" by some dude named George Lucas. After his own "One From the Heart" crashed and burned at the box office in 1982, Coppola started taking gigs as a work-for-hire director to make ends meet. So when Kilmer talks about being an artist desperate to make something he cares about while scrambling to pay the bills, that's something Coppola can relate to on a deeply personal level. All those local weirdos (Bruce Dern!) asking Baltimore to co-write with them also suggests the film will have plenty more to say about authorship and collaboration. Since Coppola will be remixing the movie live at special screenings, that theme's only going to get amplified even further.
I haven't loved Coppola's recent movies, but I have dug the fact that his wine business seems to have given him back the creative freedom he lost decades ago. Coppola working without "incessant financial burdens" is always a sight to behold. I really hope I get to see this movie when it premieres at the Toronto Film Festival next month.
Ready for a live movie remix? Tell us in the comments below or on Facebook and Twitter.
*This may not actually be a true story.