Tune in Tonight for a Sneak Peek of "Portlandia"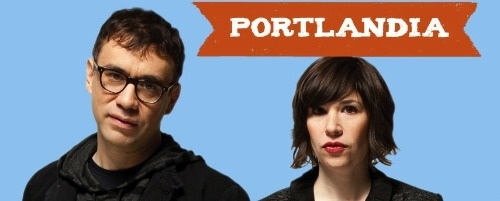 Posted by Melissa Locker on
We know you were going to watch the premiere of "Whisker Wars" tonight at 11 p.m. ET anyway, but we're like mad genius bakers and we wanted to add some icing to that already delicious cake. To that end, we're showing a special sneak peek of the second season of "Portlandia" during the premiere episode of "Whisker Wars." In that sneak peek we will get a hint as to what Fred Armisen, Carrie Brownstein, and the rest of the denizens of the delightful land of Portlandia have been up to since the end of last season. The one thing we know for sure is that they are filming the second season of the hit sketch comedy show now in Portland, Or. (no relation) and have issued this from the set:
Intriguing, right? So tune in to "Whisker Wars" tonight and enjoy the double dose of sugary goodness.
And here's a quick reminder of why you love "Portlandia" so much:
video player loading
.
.
.
"Portlandia" airs tonight at 10:30 p.m. ET and returns to IFC in January 2012