Get ready for this weekend's armageddon by reading our top 5 movie hurricanes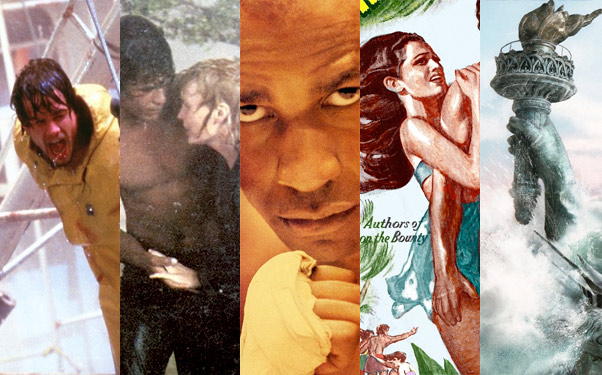 Posted by IFC on
From Andrew to Katrina, hurricanes are one of the harshest natural threats on Earth, and it's no accident that studios have leveraged them on multiple occasions in stories of courage, struggles and romance.
Five films defined hurricanes for us better than any others, though, and they feature intense performances, as well as sprawling directorial ambitions.
---
5. "The Hurricane" (1937)
At the time, this John Ford-directed film boasted "the most spectacular scenes ever filmed by man." And you know what? His bad weather special effects weren't all that bad. The story follows a man (Jon Hall) imprisoned for getting into a bar fight; his luck after that just kind of wanders into a downward spiral.
If this were a top five list of scenes featuring priests playing organs in apocalyptic weather situations, "The Hurricane" would be number one.
---
4. "The Hurricane" (1999)
The Hurricane in this film (Denzel Washington) didn't devastate any islands, but oddly enough he did share a common experience of unjust persecution with the main character in the 1937 film of the same name. In this case the story features a man (based on real-life boxer Rubin Carter) incarcerated for murder. Strangely enough, this movie came up short at the Oscar's while John Ford's film actually took one home (for "Best Sound").
---
3. "The Day After Tomorrow" (2004)
By the time director Roland Emmerich was done putting the world through Ragnarok this movie, it's almost difficult to say how important a role the hurricanes actually played. In fact, we're just sort of assuming that somewhere within the continent-sized super-storms that erupted there had to be at least one or weather events blowing around fast enough to qualify as hurricanes.
---
2. "Hurricane" (1979)
Based on the same novel as the 1937 movie (we just can't escape it), this film featured a much steamier poster and featured Mia Farrow, Jason Robards and Max von Sydow. The acting improved, and all of the hurricane action came in color this time around.
---
1. "The Perfect Storm" (2000)
Just as Hollywood studios loves to fish for Oscars with George Clooney movies based on popular source material, so too do some men love to fish. This film features beat-you-over-the-head analysis of how bad a hurricane is, brutal shots of men battling that hurricane and John C. Reilly to boot. Case closed, there will likely never be a better movie about a hurricane made in our lifetimes.
---
Did we miss your favorite movie hurricane? Let us know below or on Facebook or Twitter.