The 25 best movie pep talks (with video)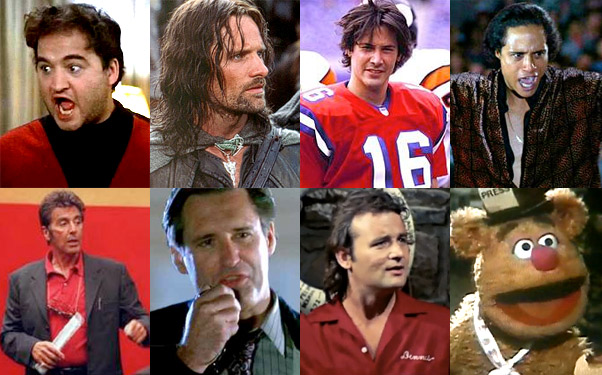 Posted by IFC on
Movies can be awesome sources of motivation, whether you're storming the gates of Mordor or walking onto the field in the second half of a pee-wee football game. The great energizing speeches in film make us feel like we could do either and come out on top, and the actors on screen, from Rick Moranis to Kenneth Branagh, know how to makes an audience feel good.
So whether you need to take down the greatest ice hockey team in the world or just feel battered and beaten by repeated printer jams at work, here are our ten favorite movie pep talks, guaranteed to make you get up in the morning and fear no enemy in your path.
Some words of warning, though. Whether they involve wars, sports or rooms filled with Muppets, these scenes may cause excessive fist-pumping.
---
25. The success speech, "Heavy Weights" (1995)
Tony Perkins (Ben Stiller) may not win many fans speaking to a camp full of overweight kids expecting to kick back and have a summer of fun. He does deliver an unbridled performance at the front of the room, however, declaring that he eats success for breakfast with skim milk. It's one of Stiller's best comedic performances and a classic introduction to one of the greatest summer camp villains in film.
---
24. Ben Affleck getting desperate, "The Town," (2010)
You may not necessarily associate Doug MacRay (Ben Affleck) from "The Town" with motivational pick-me-ups. Congressman Kevin McCarthy recently selected a scene from the film as required viewing for his fellow Republicans when was urging them to get behind House Speaker John Boehner's debt ceiling plan. It's not our pep talk of choice, but apparently the words, "I need your help. I can't tell you what it is, you can never ask me about it later, and we're gonna hurt some people," really does it for some politicians.
---
23. The filibuster, "Mr. Smith Goes to Washington" (1939)
Have all of the protracted debates about the United States' debt ceiling had you bemoaning the inefficiencies of government recently? Well, have a drink and watch Jefferson Smith (Jimmy Stewart) call it like he sees it in one of the most iconic moments of Stewart's career. He collapses on the floor before it's all over, but not before speaking his mind to some some heartless lawmakers as he fights for his constituents.
---
22. Cyrus rallies the gangs together, "The Warriors" (1979)
Part Don King and part revolutionary, a gang leader named Cyrus (Roger Hill) invites representatives of hundreds of gangs from across New York City's boroughs to congregate and listen to his pitch for a united super-gang. His anti-establishment, anti-police message goes over well, too, until a member of a gang called The Rogues shoots the leader dead and frames The Warriors for the crime. Thankfully, Cyrus lives long enough to immortalize the words "Can you dig it?" for everyone who has ever seen the "The Warriors."
---
21. "Pain heals, chicks dig scars," "The Replacements" (2000)
No one expresses passion and determination on the big screen quite like Keanu Reeves, and he gave the huddle speech that he was born to recite in "The Replacements." His character, Shane Falco, admits that "classy" and "inspirational" are not his style and instead opts to keep things short and sweet: "Pain heals, chicks dig scars, and glory lasts forever."
---