Tony Scott to remake "The Wild Bunch" whether you want him to or not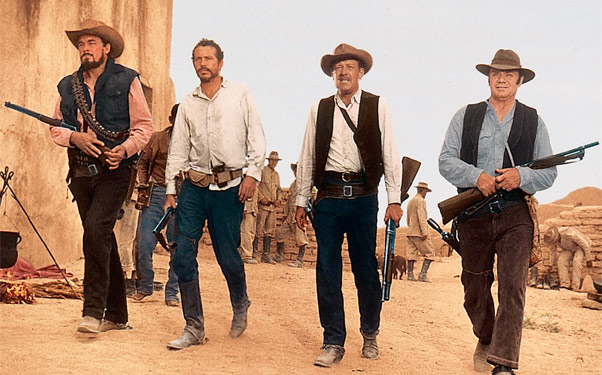 Posted by Aubrey Sitterson on
Sam Peckinpah's 1969 flick "The Wild Bunch" is a stone cold classic: A brutally violent western that showed that graphic genre films could be beautiful and technically dazzling in their own right, while telling a timeless story of hard men past their prime, setting out for one last score. Somewhat fittingly then, another hard man past his prime, Tony Scott, plans on taking the reins on a remake of the classic film.
In the film, William Holden, Ernest Borgnine, Warren Oates, Ben Johnson and Jaime Sánchez, posse up for a trip down to Mexico and a whole lot of bloody, slow motion violence. That violence ultimately contributed to the film's legacy, as it has come to be recognized as an exemplar of the action genre, and a forerunner to all of the stylized, hyper-violent flicks we so enjoy today.
A new "Wild Bunch" might stick in film fans' collective craw more than other recent remakes, however, because the original not only holds up, but retains much of its charm due to its late 1960s aesthetic and the grizzled old men in the leads. It's possible that a new version of the flick could cast similarly hard-faced geezers – hell, Ernest Borgnine's still taking gigs – but playing the odds, we're probably looking at a Western version of "Ocean's Eleven."
But anti-remake folks don't need to get their panties in a twist just yet, as Deadline reports that a new "Wild Bunch" won't be saddling up any time soon. Prior to the remake, Scott is already committed to "Hell's Angels," and he wants Jeff Bridges to star. If he's truly committed to working with the "True Grit" actor, he'll need to wait until Bridges finishes up commitments to both "R.I.P.D." and "The Seventh Son." So we've got at least a couple years before anyone needs to get well and fully agitated about this particular remake.
Do you think a remake of "The Wild Bunch" is necessary, and if so, is Tony Scott the right man for the job? Tell us in the comments below or on Facebook and Twitter.