The ten coolest cars in movie history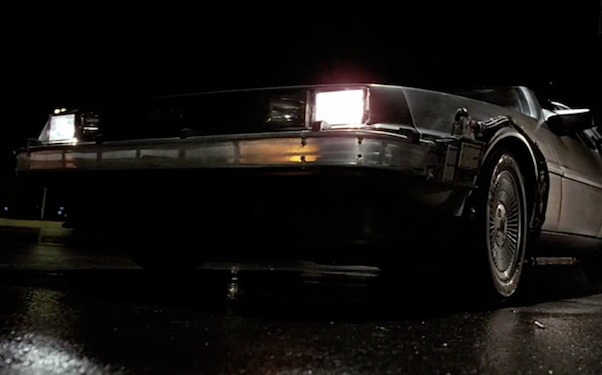 Posted by Matt Singer on
This week's excellent new film "Bellflower" features one amazing automotive co-star: the Medusa, built by the main characters in preparation for the apocalypse. The Medusa is a sick ride: it's got two fuel injected exhaust flamethrowers, a loudspeaker intercom system, a roll cage, and even spews smoke screens on command.
In other words, this is one cool movie car. But where does it rank in the history of coolest cinematic automobiles? I'd put it just outside our top ten favorites, and by our I mean my, and by favorites I mean totally subjective favorites that you'll disagree with and give me grief about. Here they are:
---
10. The Ecto-1
1959 Cadillac Ambulance, modified
From "Ghostbusters" (1984)
Directed by Ivan Reitman
Bulky, clunky, and old, the Ghostbusters' signature ambulance isn't the prettiest car to look at. Still, all that weird sciencey equipment designed to trap spooks, spectres, or ghosts, plus the great red on white detailing and "Ghostbusters" logo make it an eye-catcher. Plus every child who played "Ghostbusters" growing up in the 1980s does a dead-on impression of that unmistakable siren. Even better, I'm pretty sure if you had one of these and drove it around the streets of New York City in 2011, you would get laid faster than you could cross the streams.
---
9. Cobra's Merc
1950 Mercury Monterey, modified
From "Cobra" (1986)
Directed by George P. Cosmatos
What 1950 did L.A. cop Marion Cobretti's beloved Mercury Monterey come from? Definitely not ours. It must belong to some weird alternate 1950 where cars are designed to break the laws of physics: driving backwards down the highway at absurd speeds, rolling over other cars like a monster truck, jumping off parking garages like a parkour racer (a par-car?) and practically flying over the canals at Venice Beach. This unstoppable tank was still ahead of its time in 1986. Fifteen years before the first "Fast & Furious," Cobretti had already outfitted his Merc with nitro for crazy speed boosts.
---
8. Cameron's Dad's Ferrari
1961 Ferrari 250GT Spyder California
From "Ferris Bueller's Day Off" (1986)
Directed by John Hughes
"Less than one hundred were made," Ferris Bueller's best buddy Cameron says of his dad's prized 1961 Ferrari. In fact, the car was even rarer. Less than 100 were made of all the Ferrari Spyders between 1958 and 1963, at least according to this article on last year's auction of the replica car used in the film. Cameron's father — who understandably calls the Ferrari his love and his passion — would kill his son if he found out he was driving it. But the car is so friggin' cool that no one would pass up that opportunity to take it out for a tour of Chicago. When Ferris, Cameron, and Sloane leave it at a parking garage, the attendants swipe it for a joyride too. And, man, do those arcing slo-mo jumps through the streets of the Windy City look beautiful.
---
7. Frankenstein's Monster
1970 Chevrolet Corvette, heavily modified
From "Death Race 2000" (1975)
Directed by Paul Bartel
It's a car that looks like a lizard's head with headlights for eyes and fangs for a grill. It runs people over. 'Nuff said.
---
6. Stuntman Mike's Death Proof Car
1971 Chevrolet Nova, modified
From "Death Proof" (2007)
Directed by Quentin Tarantino
The heroines of "Death Proof" obsess over a white 1970 Dodge Challenger, the same car used in the classic road movie "Vanishing Point." And while the Challenger is an amazing car — and there are a lot of great '70s muscle cars in many movies from that period — Tarantino's homage trumps them all. That's because of his unique innovation: the death-proof cabin. Supposedly "Stuntman" Mike McKay has outfitted his 1971 Chevy Nova (with unforgettable skull-and-lightning logo on the hood) so that it is, at least while sitting in the driver's seat, "100% death proof." It's impossible, but imagine if it wasn't? It would be mighty cool to drive that Nova. Maybe too cool; the feeling of omnipotence Mike gets behind the wheel was probably a contributing factor to his deranged psyche.
---
5. The Pursuit Special
1973 Ford XB Falcon GT, modified
From "Mad Max" (1979) and "The Road Warrior" (1981)
Directed by George Miller
"Mad" Max Rockatansky's endless and endlessly awesome wanderings through post-apocalyptic Australia wouldn't be the same without his Pursuit Special (see: "Mad Max Beyond Thunderdome"). It's truly one of the most iconic cars in movie history: the modified black Ford Falcon body, the side exhaust pipes, the supercharger on the hood. In "The Road Warrior," it was modified with booby traps and concealed weapons to help Max survive in the wastelands. The thing's so sweet, it almost makes you psyched for the end of peak oil.
---
4. Bullitt's Mustang
1968 Ford Mustang GT Fastback
From "Bullitt" (1968)
Directed by Peter Yates
Lieutenant Frank Bullitt's 1968 Mustang might be the least flashy car on this list, but that's part of its appeal. The fact that something so cool is (or at least was back in 1968) so attainable makes it even cooler. Yes, the cars used to film the movie's masterpiece of a chase (see below) were heavily modified to withstand high speeds and big jumps, and throughout the nine minute sequence they drop more hubcaps than a clumsy chop shop stock clerk. But Peter Yates' direction makes the scene just plausible enough to feel authentic. Bullitt's car was a real-world ride. It's easy to watch the film and pretend that if you'd been around back in '68, you could have had one and been just as cool as Steve McQueen.
---
3. The Carmarine
1976 Lotus Esprit S1, modified
From "The Spy Who Loved Me" (1977)
Directed by Lewis Gilbert
Over twenty-two films, James Bond has amassed a car collection that would make Jay Leno drool with envy. Bond's Aston Martin DB5, first introduced in "Goldfinger," is easily his most famous whip, but for my money, the Lotus Esprit from "The Spy Who Loves Me" gets the nod as his best vehicle. It's both stylish and functional. In a pinch, it can instantly transform from car to submarine; the wheels retract, fins extend, fans appear out of nowhere on the rear bumper, and a missile silo phallically extends from the roof. It's quick enough to evade evil scuba divers and powerful enough to blow up a helicopter. Then when the coast is clear, Bond can drive it right out of the water onto the beach, scaring the hell out of some Sardinian sunbathers. Like the song says, nobody does it better.
---
2. The Batmobile
Bat-customized Chevrolet Impala
From "Batman" (1989) and "Batman Returns" (1992)
Directed by Tim Burton
There have been so many Batmobiles by now that it's hard to pick just one favorite. The most recent "Tumbler" Batmobile from the Christopher Nolan films can jump and includes a pop out Bat-Pod motorcycle. The Joel Schumacher Batmobile could climb on walls. The Adam West '60s Batmobile spewed fire from its oversized exhaust pipe. But the Anton Furst designed Batmobile from Tim Burton's "Batman" and "Batman Returns" gets top marks for its sleek yet muscular body and its surplus of cool design elements. It can be remote controlled, responds to voice commands, and has pop-up shields to protect it while parked. The fanciful gadgets are off-set by some more blunt features, like twin hood-mounted machine guns, perfect for infiltrating Acme Chemicals.
---
1. The DeLorean
1981 DeLorean DMC-12, modified
From "Back to the Future" (1985)
Directed by Robert Zemeckis
How could it not be number one? The DeLorean was already a massively cool — with that stainless steel body and those great gull-wing doors it's one of the few automobile designs from the 1980s that still looks futuristic — and then you add on the ability to travel in time and you have one bitching ride. Then in "Back to the Future Part II," director Robert Zemeckis did it one better by turning the whole thing into a flying car and hovercraft. If God appeared before you and said you could have any car from any work of fiction, you'd pick the "BTTF:II" DeLorean ten out of ten times before He even finished His sentence. It's the coolest car in movie history.
---
What's your vote for the coolest car in movie history? Tell us in the comments below or on Facebook and Twitter.com.