The Rock sets up a roadblock for "G.I. Joe 2"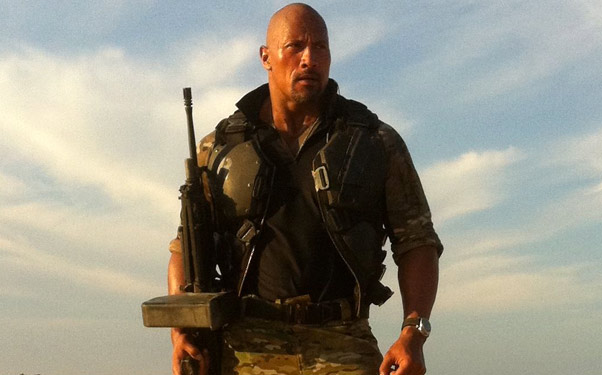 Posted by Brian Jacks on
The "G.I. Joe" sequel updates just keep coming and coming. Earlier this morning we brought you the news that "Shield" star Walton Goggins had joined the cast of "G.I. Joe 2: Retaliation," and now we have the first image of Dwayne "The Rock" Johnson in character as the beefy, machine gun-touting Roadblock.
Johnson posted the photo to his Twitter page, along with the quip "1st day of shooting. 110 degrees. Bring It."
The film is under the helm of Jon Chu, and the production has cast a wide net for its talent, bringing former Joes Channing Tatum, Ray Park and Byung Hun-lee back for another go, and adding Johnson, Goggins, Ray Stevenson, RZA and reportedly Bruce Willis.
The story has been kept primarily under wraps, although we know it involves Snake Eyes and Storm Shadow's relationship with the Blind Master. Given that Joseph Gordon-Levitt is not returning though, it's unknown what relationship Cobra Commander will have to the new film, if any.
"G.I. Joe 2: Retaliation" is scheduled to hit theaters June 29, 2012.
Are you excited to see the Joes back on the big screen? Let us know below or on Facebook or Twitter.