The other Bat-folk we want to play as in "Arkham City"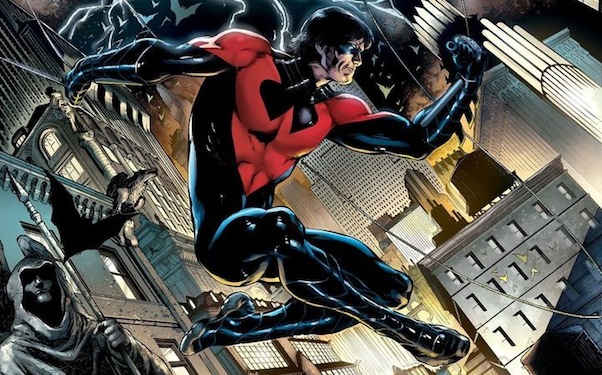 Posted by Evan Narcisse on
Warner Bros Games is making more and more of Batman's milieu come to life in "Batman: Arkham City." Along with recent reveals of the Penguin and Mr. Freeze as antagonists for the Dark Knight, we've also heard about Catwoman falling under players' control in the game's story mode and Robin being a playable character in the game's challenge maps. Then, yesterday, alternate skins were announced for the Boy Wonder, with looks from the Red Robin identity of Tim Drake, the modern-day hooded variation worn by Bat-son Damian Wayne and the 1990s animated series on display.
Well, if the developers at Rocksteady Studios can do all of this, surely they can throw a few more playable characters in "Batman: Arkham City" for fans. Here's who we'd like to see.
---
Nightwing
Dick Grayson's best known as the first Robin, but he created the Nightwing identity when he outgrew being a kid sidekick. He's as good a fighter as Batman but with more of an acrobatic flair. It'd be great to see his more athletic style-and his signature escrima sticks and wisecracks-brought to life in the new Bat-game.
---
Batgirl
If Robin can be playable, then Batman's distaff junior partner should be, too, no? Just like there've been multiple Robins, a few different young ladies have been Batgirl as well. Batgirl Classic is Barbara Gordon, who was actually in Arkham Asylum as Oracle, the information broker identity she assumes after the Joker shoots her through the spine and paralyzes her. Then came Cassandra Cain, a mute assassin's daughter who came under Batman's aegis after he fought her dad. Most recent was Stephanie Brown, progeny of yet another Bat-villain named Cluemaster. She worked as the vigilante named Spoiler, fell in love with the Time Drake Robin and then briefly supplanted him
---
Catgirl
Speaking of Robins and girl Bat-partners, Carrie Kelley was the first female Robin as far as real-world chronology goes. She appeared in the seminal "Dark Knight Returns" series by Frank Miller. She helped a gray-haired Batman wrangle steroid-freak street gangs and even survived an encounter with the Joker. In Miller's sequel "The Dark Knight Strikes Back," Carrie became Catgirl, an homage to Selina Kyle's feline identity. There's going to be a gritty, older "DKR" skin for Batman, and Carrie's identity as Catgirl would be a nice compliment to that. Plus, she could arguably share much of Catwoman's move set, too.
---
Catman
The name sounds like a joke, right? And for a while, he was. Thomas Blake was a goofy 1960s doppelganger created by Bill Finger and Jim Mooney who stopped being a big-game hunter to mess with Bruce Wayne's alter ego. But, writer Gail Simone recast Blake as a grim loner trying to put his laughable past behind him, until a web of machinations forces him to work with other supervillains in a mercenary crew called the Secret Six. Blake's now a true force to be reckoned with, a feral fighter who's nearly Batman's equal and has no compunctions about lethal force.
---
Lady Shiva
Like Catwoman, Sandra Wu-San's a character who exists in a grey area. Generally regarded as the deadliest martial artist in the DC Universe, she's been a contract killer for years. But, she'll occasionally work on the side of the angels when circumstances demand it. And, because, there aren't any coincidences in comics, she also happens to be Cassandra Cain's mom. Nevertheless, it'd be great to play as Shiva and decimate hordes of Arkham City thugs with her cool, effortless grace.
---
Batwing
David Zavimbi's a new character created by comics legend Grant Morrison as part of the Batman, Inc organization. Bruce Wayne's deputizing heroes all over the world to help combat a sinister, underground conspiracy and picked Zavimbi to represent the Dark Knights interest on the continent of Africa. Zavimbi getsaround via jetpack and seems to be more technologically oriented than most other Bat-characters. Incorporating him into the "Arkham City" game could give players the chance to try out a radically different character.
---
Of course, at the time of this writing, "Arkham City" is almost certainly in the home stretchof it development. It'd be surprising to see any of these characters in the game. But, if "Batman: Arkham City" does well enough to warrant another follow-up, then Bat-fans might have the chance to see of these and other characters in The Dark Knight's next video game outing.
Have some Gotham-based favorites of your own that you want to see in a future Batman game? Let us know in the comments below or on Facebook or Twitter.