"The Hobbit" 101: A quick guide to the major characters in Peter Jackson's upcoming adaptation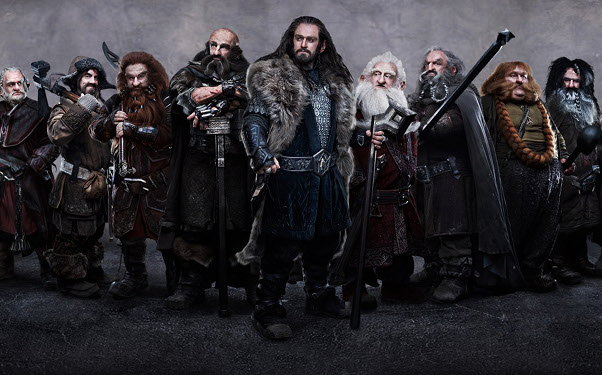 Posted by Rick Marshall on
Peter Jackson made an unexpected appearance at Comic-Con last weekend to discuss how things are progressing on "The Hobbit: An Unexpected Journey," the first chapter in his two-part film based on J.R.R. Tolkien's 1937 story.
A prequel to the "Lord of the Rings" trilogy, "The Hobbit" follows a group of dwarves and a hobbit, Bilbo Baggins, as they set off on an adventure to slay the dragon Smaug. The group is accompanied at points by the wizard Gandalf, and interacts with a long list of Middle-earth inhabitants — good and evil — as they travel across the land toward Erebor, the mountain the dwarves once called their home.
Over the weekend, "Hobbit" fans were treated to the first full image of all 13 dwarves — a reveal that occurred after being teased with a series of photos depicting small groups of dwarves or close-up shots of the characters.
While the big debut of Thorin Oakenshield's traveling party was big news for Tolkien fans, not everyone is savvy to the people and places that make Middle-earth so popular. No need to worry, though, as I've put together a quick guide to who's who among the dwarves, as well as some of the other major players in the story of "The Hobbit."
---
THORIN OAKENSHIELD
When the dragon Smaug invaded the mountain kingdom of Erebor, he forced the surviving dwarves into exile. Among them was Thorin, heir to the throne. He earned his surname when his shield was broken during a battle and he was forced to use a piece of a tree to protect himself. Years later, Thorin and twelve of his most trusted warriors accompanied the wizard Gandalf to the Shire, with the intent of recruiting a Hobbit to be their group's scout and thief.
---
THORIN'S PARTY
Joining Thorin on his quest are twelve other dwarves: Nori, Ori, Dori, Oin, Gloin, Fili, Kili, Bifur, Bofur, Bombur, Balin, and Dwalin. Among them are several members of the dwarf nobility, including hardened veterans Balin and Dwalin, as well as Oin and Gloin. They're also joined by Fili and Kili, a pair of young dwarves raised by their uncle, Thorin. It's worth noting that Gloin also has a son, Gimli, who will join Frodo and the Fellowship of the Ring on another, even more important quest years later.
---
BILBO BAGGINS
A resident of the Shire, Bilbo Baggins always had more of an appetite for adventure and news from the outside world than his fellow Hobbits. Gandalf eventually convinces Bilbo to join Thorin and the dwarves on their adventure, and he sets off on a quest that will later become the subject of his book, There and Back Again. Bilbo later adopts his nephew, Frodo, who inherits the One Ring and sets off on an adventure of his own with it.
---
GANDALF
An ancient wizard, Gandalf helps to orchestrate Bilbo's involvement with Thorin and the dwarves, and accompanies them during certain portions of their trip to Erebor. Much like his role in "Lord of the Rings," Gandalf is a friend to the Hobbits — and Bilbo in particular — and watches over the party during their travels even when he's not present.
---
GOLLUM
A major player in the "Lord of the Rings" trilogy, the creature known as Gollum first appeared in "The Hobbit." His encounter with Bilbo in a dank cave will forever change the course of Middle-earth's history, and play a significant part in the events of "Lord of the Rings."