"The Dark Knight Rises" takes over the Pittsburgh Steelers' Heinz Field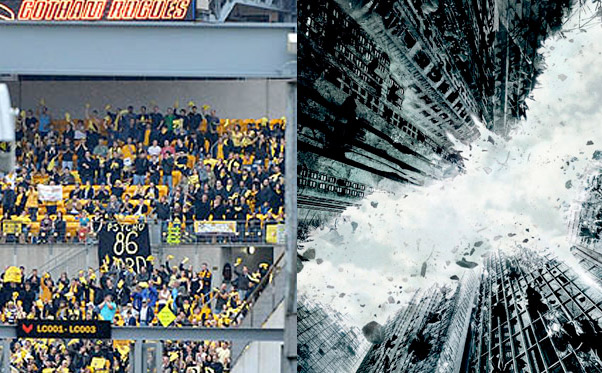 Posted by Aubrey Sitterson on
This weekend saw Pittsburgh's Heinz Field once again play host to hordes of fans in black and yellow clothing. But shockingly, there wasn't a single Steelers logo in sight, as the crowds were there to cheer on the Gotham Rogues, the fictional football team in "The Dark Knight Rises."
Christopher Nolan has been filming his third Batman movie in Pittsburgh for about a week now, but this Saturday the production kicked things into high gear with a series of scenes that required more than 10,000 extras to pack into the Steel City's Heinz Field. Fans were asked to put aside their love for the Steelers and instead cheer on the Gotham Rogues as they faced their rivals, the Rapid City Monuments.
Cheering for the Rogues proved easier than you might think though, as the team shares not only its colors with the Steelers, but even a few players, including Ben Roethlisberger and Hines Ward. Meanwhile, on the side of the Monuments was Pittsburgh mayor Luke Ravenstahl, who played a kicker for the away team.
The scene itself entails a cold weather football game that gets interrupted by a series of massive explosions. According to the Pittsburgh Post-Gazette, the film's "special effects team got the explosives set, and about 60 bombs went off, seeming to blow a gaping hole in the field." The extras in attendance were then encouraged to scream and run away in terror from the destruction.
While the thousands of extras in attendance were unpaid, they were compensated with free stadium food and the chance to win tickets to the premiere of "The Dark Knight Rises," which hits theaters on July 20, 2012.
Would you stand outside in 89-degree weather for a chance to appear in "The Dark Knight Rises?" Tell us in the comments below or on Facebook and Twitter.