Latest 'Avengers' set photos reveal a mysterious object in the city street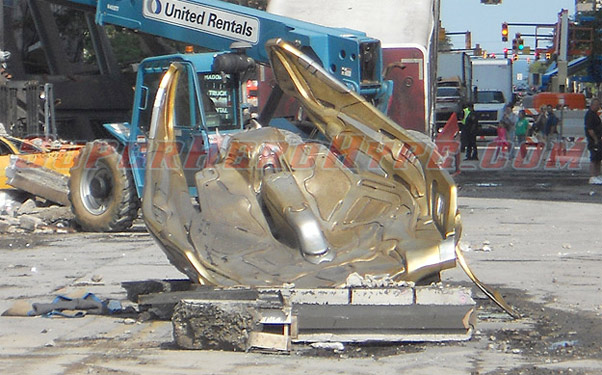 Posted by Rick Marshall on
Another day, another potentially spoiler-filled peek at the Cleveland set of "The Avengers," Joss Whedon's upcoming team-up film that has Captain America, Thor, Iron Man, and other Marvel heroes uniting to defeat, well… we're not quite sure yet.
However, the latest unauthorized photos to emerge from the production might offer yet another clue about the foe Earth's Mightiest Heroes are teaming up to thwart.
In case you didn't guess by now, what follows from this point could be a minefield of spoilers — so tread carefully, and remember: we warned you!
Are we good to go? Okay then…
Posted over at Superherohype, the latest photos from the "Avengers" set offer a nice, clear view of the mysterious object that was previously seen in blurry images and sparked some discussion. From what we can tell, the object could be a craft of some sort, and certainly doesn't seem to be of Earthly origin.
Nevertheless, while some sites are declaring it further proof that one of the alien races of the Marvel Universe — namely the shape-shifting Skrulls or militaristic Kree — will invade Earth and force the aforementioned heroes to unite, there's reason to believe that might not be entirely accurate.
Looking at the object, there are clearly some similarities between it and the type of things we saw in Thor's homeworld, Asgard. In fact, it's the sort of thing that looks like it could've been right at home in Odin's throne room. The fact that we saw Tom Hiddleston on set as Loki yesterday only seems to support the Asgardian connection for the object.
While we're not likely to have a definite answer until "The Avengers" explodes into theaters next year, at the rate we're seeing set photos from the film, we might not actually have to wait that long. Any guesses as to what tomorrow's batch of set photos will bring?
What do you think the object is? Chime in below or on Facebook or Twitter.