"The Avengers" gets explosive in new videos and photos from the Marvel set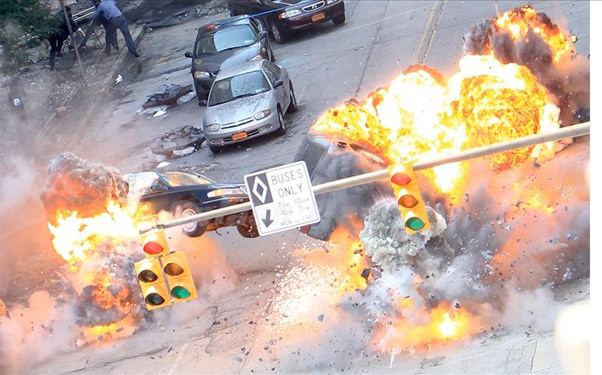 Posted by Aubrey Sitterson on
If you've seen any of Marvel Studios' recent superhero flicks, like "Captain America: The First Avenger," "Thor" or either "Iron Man," you probably have a good idea what to expect from the company's new superhero team-up movie "The Avengers." But in case you were for some reason under the impression that this would be a nice, calm little character piece, let us relieve you of those false expectations: This movie is going to have a ballsload of explosions.
For the past two days, reports about the ongoing production have been flooding out of Cleveland, and almost all of them have been focused on what looks to be a colossal action scene, with the Forest City standing in for the Big Apple. Allow us to guide you through the wealth of video and photos of the "Avengers" set, won't you?
First up, we've got a video of fleeing crowds courtesy of our favorite Ohio city-specific site, Cleveland.com:
video player loading
.
.
.
After you watch the chaos from street level, get a look at the madness from up above, courtesy of this YouTube video filmed by a better-situated set-watcher:
And for good measure, another shot of people pretending to run in fear, but this time, with actual explosions in the frame:
On the still photos side of things, you can find destructive fireballs at Splash News Online, billowing smoke clouds at Superhero Hype, and perhaps most interestingly, a look at Chris Evans' Steve Rogers on set, courtesy of Celebuzz.

Obviously there's a fair bit of action planned for "The Avengers," but did we miss anything in the copious amount of photos and videos hitting the Internet the past few days? Tell us in the comments below or on Facebook and Twitter.