Five ridiculous studio mandated endings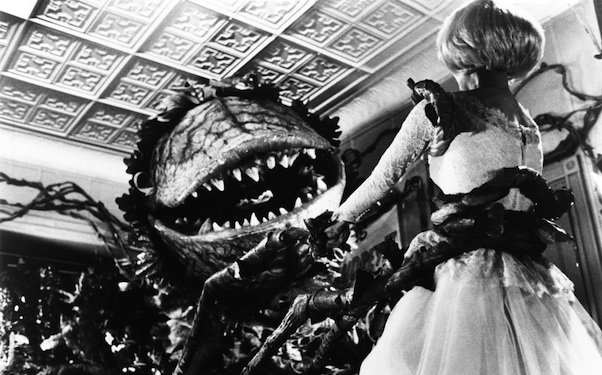 Posted by Matt Singer on
Most Hollywood movies are products of collaboration and compromise. Unless their directors have the contractual right to select their own final cut, the ultimate decision on the content of the film belongs to the studio that distributes it. Occasionally, this process can produce a stronger movie than one made in a creative vacuum. Other times, the results can be disastrous. Just recently, I watched two films whose endings had been radically recut by their distributors in last ditch attempts to lighten up uncommercial material. When test audiences found 1972's "Conquest of the Planet of the Apes" too dark for their taste, an unmotivated reconciliation speech was hastily and awkwardly woven into existing footage. "Conquest" is a famous example of studio intervention; 1997's "Mimic" is not. But as I sat and watched a character heroically sacrifice themselves and then magically reappear alive a few scenes later, I could just tell I was watching a resolution other than what director Guillermo del Toro originally intended. A little research confirmed my suspicion.
Those movies got me thinking about the most ridiculous studio mandated endings in history, and by ridiculous endings I mean the ones that deviate in the most extreme ways from the directors' and writers' original intentions. Ridiculous means tragic becomes comic, sad becomes happy, and dead characters get a new lease on life. There are many, many examples of this phenomenon. Here are my picks for the five most flagrant. And given that this is an article about endings, you should know that the SPOILER ALERT is in full effect throughout.
---
"Suspicion" (1941)

Directed by Alfred Hitchcock
"Suspicion" was based on a 1932 novel called "Before the Fact," notable for its story of murder told from the point-of-view of the victim. Hitchcock's big-screen adaptation was notable for the fact that its studio, RKO Pictures, demanded an ending that totally reversed the original novel's intent. In both versions, Lina (Joan Fontaine) falls for Johnnie (Cary Grant), but begins to suspect after their wedding that he is not an ideal husband. She learns about secrets in his past and trouble with money, and eventually comes to suspect he is plotting to kill her. In "Before the Fact," Lina's suspicions are entirely correct; Johnnie poisons her and she goes to her death willingly because despite his flaws, she loves her husband. But because Johnnie was played in "Suspicion" by Grant, who the studio believed the audience could never accept as a murderer, the film's ending — and its entire meaning — was changed. Instead of Johnnie trying to kill Lina, he's actually trying to kill himself. It's an absurd reversal, but it's one that actually plays to Hitchcock's strengths; it turns a novel about love in dark extremes into a film about a wrongfully accused man and a paranoid leading lady, two of Hitchcock's most popular themes.
Watch more about the end of "Suspicion" in this making-of documentary:
---
"The Last Laugh" (1924)
Directed by F.W. Murnau
There is just one intertitle in all 101 silent minutes of F.W. Murnau's "The Last Laugh." It is placed shortly before the end of the film, according to Roger Ebert, "almost as an apology," because the title marks the moment when the films slips from Murnau's control. Apparently the German studio UFA demanded Murnau's tragic tale of an old man (Emil Jannings) who loses his beloved job as a hotel doorman conclude happily to improve its box office potential. Murnau obliged, in a fashion; he gave his doorman a happy ending, but chose one so absurdly upbeat that it became what Alyssa Katz describes as "a grotesque parody of a happy ending." And he gave the audience a taste of his displeasure with that one intertitle, which reads: "Here the story should really end, for, in real life, the forlorn old man would have little to look forward to but death. The author took pity on him and has provided a quite improbable epilogue."
The infamous intertitle, and the "Wayne's World"-ready mega happy ending, can be found starting at 12:09 of this embedded clip.
---
"Brazil" (1985)
Directed by Terry Gilliam
Yes, Terry Gilliam directed "Brazil," but he almost didn't choose its ending. The film was distributed by Universal Pictures, and the studio's chairman at the time, Sid Sheinberg, so disliked Gilliam's preferred finale (in which the hero Sam's mind is destroyed by the totalitarian regime he's been struggling against) and ordered the film recut. His so-called "Love Conquers All" version took a portion of Gilliam's ending — — Sam flees from the city to a beautiful countryside which is actually a figment of his catatonic imagination — and removed the framing scenes that revealed that Sam's escape was all an illusion. As Sheinberg had it, Sam didn't dream of freedom, he actually found it. Fortunately, Gilliam was able to leak his cut to the press, and the Los Angeles Film Critics Association gave this "Brazil" their Best Picture award of 1985. Rising critical sentiment finally convinced Sheinberg to release a modified (but Gilliam approved) 132 minute version. For once, love didn't conquer all.
Excerpts from Sheinberg's "Love Conquers All" ending. You can also find comparison stills of the various editions here:
---
"The Magnificent Ambersons" (1942)
Directed by Orson Welles
Fittingly for a movie about a young man who finally gets his comeuppance, "The Magnificent Ambersons" was the place where boy genius writer/director Orson Welles' luck ran out. He lost his right to final cut after "Citizen Kane" and then he lost his follow-up film altogether. According to editor Robert Wise, audiences in 1942 were too concerned with World War II to care about a story of a wealthy family's gradual fall from grace. So with Welles out of the country and unavailable for reshoots and edits, Wise himself oversaw the removal of several dozen minutes of footage and the shooting of an entirely new, far more upbeat denouement (for a full accounting of the changes, read the "Ambersons" page on Filmsite.org). The young man, George (Tim Holt), gets his comeuppance and then a manufactured happy ending. Welles got a manufactured happy ending and, whether deserved or not, a big dose of comeuppance of his own. It would not be the last in a career marked by struggle and studio intervention.
"Ambersons"' original ending is considered lost along with the rest of the deleted scenes from Welles' cut. You can see Wise talk about his work on the film at TCM.com.
---
"Little Shop of Horrors" (1986)
Directed by Frank Oz
"It's pretty dark, in a nightmarish way," says "Little Shop of Horrors" director Frank Oz on the commentary track to his film's original ending. Brother, he ain't kidding. Oz's adaptation of an off-Broadway musical initially maintained the play's bummer of a finale: greedy Seymour Krelborn (Rick Moranis) and his girlfriend Audrey (Ellen Greene) are eaten by the flower shop's star plant (really an evil alien from outer space), who continues to grow into an enormous monster and then takes over the world. The off-kilter wrap-up may have played well off-Broadway but when "Little Shop" was tested for preview audiences, Oz says they "just hated" the fact that they killed the adorable and charming Greene, and that in turn killed all the film's momentum before the big show-stopping final number. Oz reshot the ending so that Seymour triumphed over his extra-terrestrial foe and lived happily ever after with Audrey, a total 180 from the scripted conclusion. That meant scrapping a massive special effects sequence where the plant takes over the island of Manhattan; it also meant losing some of the story's intended value as a cautionary tale. Suddenly Seymour was standing triumphant, with sweet understanding that off-Broadway plays can take chances that multimillion dollar films cannot.
Embedded below is the first part of the original ending, along with Oz's commentary. To find the rest of the twenty minute sequence, go to YouTube.
---
What's your pick for the most ridiculous studio mandated ending of all time? Tell us in the comments below or on Facebook and Twitter.