"The Hunger Games" recruits Steven Soderbergh as second-unit director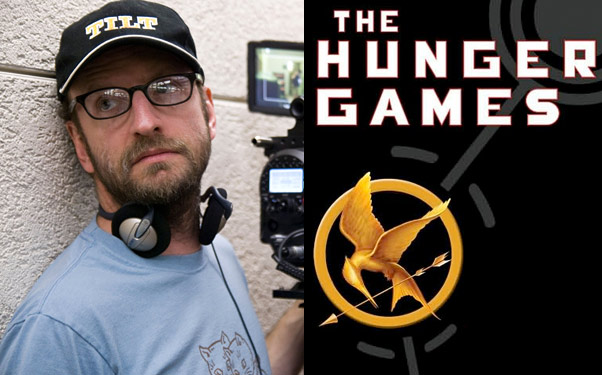 Posted by Aubrey Sitterson on
Unless you're a fan of the trilogy of novels on which they're based, or happen to have a weird thing for any of the seemingly dozens of young thespians cast in the film, you might not have been paying too much attention to news about next spring's "The Hunger Games." But that may very well change when you hear who's directing the film's second unit: Steven Soderbergh.
The news first broke over Twitter, and was pieced together yesterday by The Playlist. A couple different people involved with the film, including production designer Eddie Mills and electrician Chrys Blackstone spoke out about the director's involvement, saying "Soderbergh in the house this weekend!!! Very exciting!" and "Holy sh*t! Just found out that Steven Soderbergh is coming to the #hungergames to direct 2nd Unit. I am so excited this is getting good!" Both tweets, however, have since been deleted.
While Soderbergh's involvement might seem odd at first, he actually has a long-standing friendship with the film's director, Gary Ross. Not only was Soderbergh a producer on Ross' "Pleasantville," but Ross has reportedly looked over Soderbergh's scripts in the past. Additionally, "The Hunger Games'" production designer, Phil Messina, has also worked on a number of Soderbergh movies including "Erin Brockovich," "Traffic" and others.
If you're a member of the uninitiated, "The Hunger Games" are basically a televised competition in which young adults fight to the death – similar to Japanese cult film "Battle Royale." The film takes place in the dystopian nation of Panem, in the area once occupied by the United States. As penance for the outlying districts rising up against the capital, the folks in charge force each district to send one girl and one boy to the fight-to-the-dead Hunger Games. While technically young adult, the books are incredibly dark and mature, and have attracted a wide audience of older readers.
Soderbergh is widely renowned for his speed and ability to film and edit footage quickly, a skill that will no doubt be put to the test on "The Hunger Games," as the production team is currently rushing to meet a March 23, 2012 release date. The film features a massive ensemble cast, including Jenneifer Lawrence, Liam Hemsworth, Woody Harrelson, Paula Malcolmson, Elizabeth Banks, Stanley Tucci, Lenny Kravitz and many more.
What do you think about Soderbergh signing on for "The Hunger Games?" Does it peak your interest in the adaptation of the best-selling novels? Tell us in the comments below or on Facebook and Twitter.