"Star Wars" Blu-rays feature new digital alterations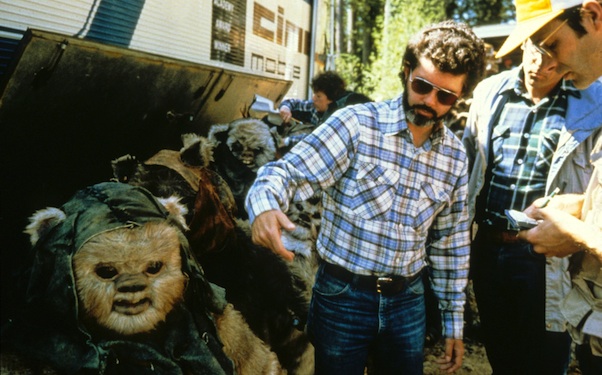 Posted by Matt Singer on
Here we see George Lucas, on the set of 1983's "Return of the Jedi" inspecting one of the film's Ewoks and probably saying something along the lines of "These puppets stink. Can't wait until I can make them digitally blink."
That's right "Star Wars" purists: your sacred text is being futzed with once again by its creator. Gird thy outrage, nerds! As Badass Digest first noted and Moviefone confirmed, Lucasfilm has made some minor (but apparently hugely important) changes to the original "Star Wars" trilogy for their Blu-ray release on September 16. The Ewoks now blink. Darth Vader now bellows a "NOOOOO!" to echo his similar howl at the end of "Revenge of the Sith." And Obi-Wan now makes a different noise or something in one scene of "Star Wars." And it's a huge deal.
Those who do not learn from history are doomed to repeat it. That's not just a truism of life, it's a truism of "Star Wars" — Episodes IV through VI are littered with echoes of themes, scenes, and motifs from Episodes I through III. Anyone who hasn't learned by now that George Lucas will continue to tweak "Star Wars" until the day he dies deserves all the sleepless nights they suffer as a result. True, a few of the changes Lucas made to the original trilogy when he released the Special Editions of "Star Wars" in the 1990s had a big impact on those films — Han shooting Greedo first does arguably change the way we see that character and his arc. But Obi-Wan emulating a fictional dragon with a new voice? Seriously: what's the difference? Unless he's naked when he does it, I don't see how this changes my enjoyment of "Star Wars."
I guess Vader letting out a big ol' "NOOOO!" right at the climactic moment of "Jedi" could affect the way that film's read (it could also make it kind of silly — as the "NOOOO!" in "Revenge of the Sith" did to that film). This fan mockup of what this scene could potentially look and sound like, though, is no big whoop.
If you want to make the argument that these changes are all about money, you definitely can. Completists who buy every version of "Star Wars" just so they can compare them all will buy the new Blu-rays and obsess over them like the Shroud of Turin. And casual fans will buy the Blu-rays because they want them in that new format and not even notice the difference. Either way, Lucas profits. But the outrage, at this point, is ludicrous. It's not shocking; it's the norm. If Lucas didn't change anything for once, that would be surprising.
Will Lucas' changes to the "Star Wars" Blu-rays affect whether or not you buy them? Tell us in the comments below or on Facebook and Twitter.