A "Star Trek" theme park ride wish list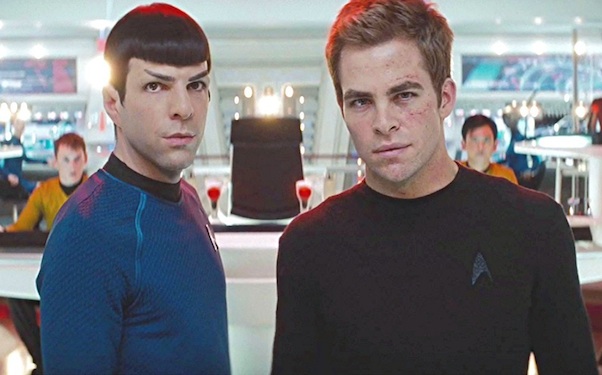 Posted by Matt Singer on
My phasers are officially set to stunned: Time reports that a full-on "Stark Trek" theme park is set to open in 2014, in Jordan of all places. That sounds like a most illogical location for a monument to all things "Trek," but it turns out the country's king, Abdullah II, is a hardcore Trekkie who's investing $1.5 billion into the "Red Sea Astrarium" project, which also includes "hotels, theaters, fine dining and shopping on site as well as the chance to learn about Jordan's history and what it's doing in terms of harnessing green energy."
That sounds nice, but let's face it: I wouldn't be writing about this if the big draw was a presentation on future environmental strategies. As a recovering "Star Trek" nerd (yes I went to a convention — just one, though!), what I want to know about is the "Star Trek" component. Time's article says the park will include a licensed "Trek" "space-flight adventure" that "will deliver a variety of multi-sensory futuristic experiences, culminating with a state-of-the art space-flight adventure that takes real-time immersive entertainment experiences to bold new heights."
Sounds good to me. But one ride alone isn't going to convince me to renew my United Federation of Planets passport and travel all the way to Jordan. If this "Star Trek" park's going to draw geeks from all over the world, it'll need a whole lot of cool (and by cool I mean intensely dorky) rides. Like, for example, stuff like this:
1. Captain Picard's Phaser Funhouse
There's a great ride at Disney's California Adventure park called Toy Story Midway Mania! You and a friend each get a little pull-string cannon to shoot at video screens inside this giant funhouse. You wear 3D glasses and fire at various mini-games inspired by old midway entertainments: throwing darts, breaking plates, and so on. You try to rack up points and beat your partner. It's a simple idea but the interaction between your real gun and the digital CGI is stunningly effective and surprisingly immersive. Applying similar technology to the "Star Trek" mythos seems like a no-brainer. Create a basic storyline — say, you're Starfleet Academy recruits being tested on your skills with a weapon — give everybody a realistic-looking phaser and some 3D glasses and away we go. Instead of midway games, the ride's themed like a shooting gallery, with pop-up Borg cut-outs to shoot at and innocent Talaxians to avoid.
2. Shuttlecraft Spaceflight
Here's another impressive Disney attraction that feels equally tailor-made to "Star Trek" applications: Mission: Space at Epcot. The ride creates the convincing illusion of interplanetary flight by sticking guests inside a giant centrifuge disguised as a prototype spaceship. As your "shuttle" launches on a mission to Mars, the centrifuge begins to spin at incredible speed, eventually inflicting 2.5 Gs on riders (barf bags are provided in arm's reach). A trip on the Starship Enterprise would be far too smooth and peaceful for this sort of experience, but it seems perfect for a "Star Trek" shuttlecraft, those little spaceships the crew take to land on planets or survey temporal anomalies. The "Trek" version of the ride could even adapt Mission: Space's clever button mechanics, which instruct guests to press buttons to detach rocket boosters or activate manual flight, so that you get to play with the awesome touch-screen consoles that Data and the rest of the crew use on "The Next Generation."
3. Space Jump Freefall
One of the most memorable scenes in J.J. Abrams' recent "Star Trek" reboot featured Kirk, Sulu, and an ill-fated redshirt making a dangerous space jump from a shuttlecraft to a giant drilling platform hovering over the Planet Vulcan (I find this stuff easier to read, by the way, when I say it in the Comic Book Guy's voice). Now we can't very well throw theme park guests out of a spaceship (as much as we'd like to when they fail to keep up with the person in front of them in line). But today's modern tech has to offer a way to approximate that experience better than, say Stuntman's Freefall. Maybe some sort of combination of video screens and those indoor skydiving rooms?
4. Star Trek: The Experience – Klingon Encounter
This is a real but defunct attraction that was housed in the Las Vegas Hilton from 1998 to 2008, but now needs a new home. I never got to experience it myself, but it got high marks from Trekkies for its impressive recreation of iconic "Trek" elements: guests were beamed up from the Hilton to the Enterprise and then got to ride in the Turbolift and hang out on a 1-to-1 recreation of "The Next Generation" Enterprise bridge, populated by actors playing Starfleet officers (you can watch a fan's video of the attraction on YouTube). The Vegas Hilton's "Star Trek" experience eventually added a second attraction, a 3D ride involving the Borg, and also featured a replica of Quark's Bar from "Deep Space Nine" I'd say they should just haul the whole thing out to Jordan, but after plans to relocate the exhibit fell through in 2009, most of the props from The Experience were sold at auction. They now live long and prosper in nerds' basements all over the country.
5. The Trouble With Tribbles Petting Zoo
Your amusement park's got to have something for the kids. How about a big room full of lifelike, adorable tribbles? They were specifically designed by the writers of the original '60s "Trek" to be easy and cheap to make, so it shouldn't be too hard to build some relatively inexpensive high-end versions complete with some basic movement mechanics and cooing sounds. Getting them to asexually reproduce on command for the tourists might be a little bit harder though.
What rides would you want to see at a "Star Trek" theme park? Tell us in the comments below or on Facebook and Twitter.