Steven Soderbergh refuses to retire retirement rumors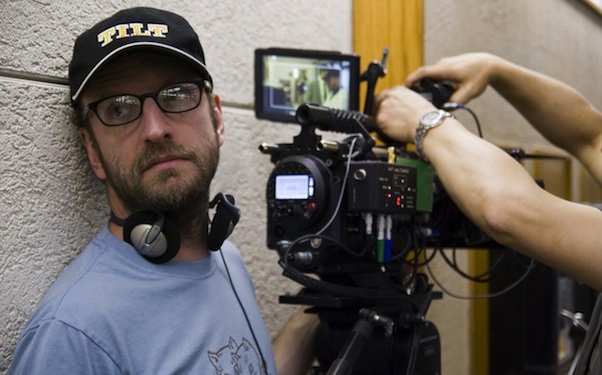 Posted by Matt Singer on
Like an infectious virus in a house full of nose pickers, here is a news story that just refuses to die. Way back in December, news reports began to surface that Steven Soderbergh was planning to retire after his last batch of movies, including the upcoming disease disaster flick — or diseaster flick, if you will — "Contagion." They were sparked by these quotes from Matt Damon:
""He wants to paint and he says he's still young enough to have another career,' Damon said. 'He's kind of exhausted with everything that interested him in terms of form. He's not interested in telling stories. Cinema interested him in terms of form and that's it…after this movie we're doing 'Liberace' next summer with Michael Douglas, and then he might do one more movie after that with George [Clooney], and then after that he's retiring.'"
Stories to that effect bubbled along for weeks and months, until Soderbergh finally put all the rumors to rest last month at San Diego Comic-Con. At a panel for "Contagion," Soderbergh said (according to Entertainment Weekly):
"Matt Damon is about as discreet as a fourteen-year-old girl…I had this drunken conversation with him in Chicago shooting Contagion," he said, adding then he read the reports in the paper a few days later. While he praised the actor's good memory ("he remembered it almost verbatim"), he said that he wasn't as serious as he had implied. "I was just sort of going off," he said. In this economy, "No one wants to hear about someone quitting a good job. It got blown out of proportion. That's Matt's fault!"
Okay, so end of story? No! Never end of story! Now when there are potentially uncommercial movies about death and disease to market! In a profile over the weekend about "Contagion" in The New York Times, Soderbergh apparently proved that while Matt Damon may be as discreet as a fourteen-year-old girl, he's also as honest as a Girl Scout. According to the Times piece, Soderbergh's Retirepalooza 2K12 is back on:
"Mr. Soderbergh was speaking last month in his office space-cum-painting studio in the Flatiron district of Manhattan, where, having announced his imminent retirement from directing, he will soon be spending a lot more time. Propped against the walls are some of his recent pieces: a pair of striped canvases in red and gray hues and a portrait of the abstract painter Agnes Martin. Mr. Soderbergh, 48, sounded matter-of-fact about the career change. 'I'm interested in exploring another art form while I have the time and ability to do so,' he said. 'I'll be the first person to say if I can't be any good at it and run out of money I'll be back making another 'Ocean's' movie.'"
Doesn't sound like the story got blown out of proportion to me, sounds like Soderbergh was just mad that Damon spilled the beans. According to the Times, after "Contagion," the already completed spy thriller "Haywire," and three more projects — a drama about male strippers with Channing Tatum, an adaptation of the 60s spy show "The Man From U.N.C.L.E.," and a Liberace biopic, Soderbergh is officially done.
Soderbergh has the right to do whatever he wants; he's a phenomenally talented filmmaker, and I'm sure he'll be a talented painter. If he does retire from directing, it will be a huge blow to American film culture. That said: the guy needs to make up his mind. Following this story is like reporting on a one-person game of schoolyard tag ("I'm retiring! Psyche! I had my fingers crossed the whole time, I'm totally quitting! Hold on, I called backsies!"). I can't keep up with this stuff anymore. While I'll be upset if the day ever actually comes, I'm announcing it publicly right now: I've officially retired from blog posts about Steven Soderbergh's retirement.
(Until he decides to make another "Ocean's" movie. But that should go without saying.)
What do you think? Will Steven Soderbergh actually retire? Do you care? Tell us in the comments below or on Facebook and Twitter.