Short film "Portal: No Escape" teleports you into the awesomeness of Aperture Science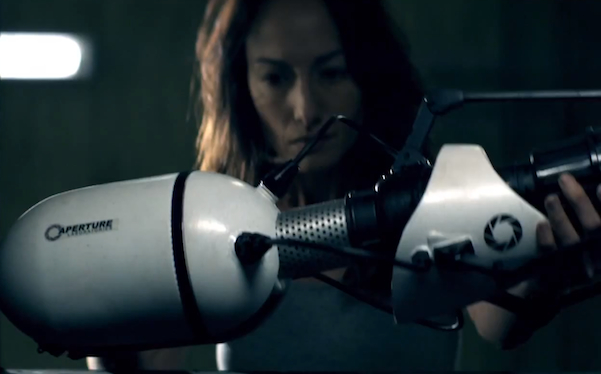 Posted by Evan Narcisse on
"Portal" gets a lot of love on the internets, and with good reason. The ingenuity of its brain-bending, physics-based puzzles, the snarky antagonism of passive-aggressive AI villain GLaDOS and the singularly well-executed gimmick of on-demand teleportation all combined to make it one of the best games ever made. By the time, you reach its affecting, musical aftermath you're ready to do it all over again.
So, it's natural that "Portal" video tributes tend to come in a steady stream. Hell, one guy even had a custom "Portal 2" level made to propose to his girlfriend with. But, "Portal: No Escape" from director Dan Trachtenberg sets a high bar for anyone looking to capture the energy of Valve's hit games.
Actress Danielle Rayne ("All My Children") does a lot with her physicality to effective channel the mute tenacity of test subject Chell and what it might actually be like to be trapped in Aperture Science's dank halls. "No Escape" is a slow build but the moody music and incremental tension lets Trachtenberg nod at signature tropes from the games, like the grafitti that serves as environmental storytelling. All that pacing that Rayne does echoes the player experience in a "Portal" game. You walk the square footage of a space, getting to know it, looking for the secret mechanism that will let you escape. Then comes the "holy sh*t! moment of realization that you can manipulate your relationship to that space. Coming to grips with what that gun can do is a defining aspect of "Portal."
The fling-where you jump off a great height and use momentum to vault over huge horizontal distances-is one of the signature mechanics of the "Portal" games and it's used to great, gasp-inducing effect in "No Escape." The jackbooted security thugs chasing Rayne/Chell around are a poor substitute for the sad sack robot turrets in the games, but that's clearly where Trachtenberg ran up against budgetary constraints. Still, he manages to pull off a great cliffhanger that'll surprise even hardcore fans.
The only thing that mars "No Escape" is the absence of Ellen McLain's voicework as GlaDOS, but the film still succeeds despite that. Here's hoping we see more of Trachtenberg's "Portal" vision soon.
Is "No escape" the best "Portal" video ever made? Let us know in the comments below or on Facebook or Twitter.