Schwarzen-Watch: Arnold is back as an actor in October.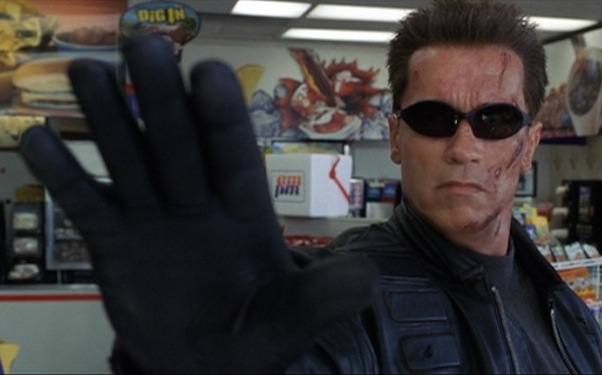 Posted by Matt Singer on
IFC.com's film writer, Matt Singer, is the biggest Arnold Schwarzenegger fan on the planet. He blogs any time any news about Schwarzenegger's return to acting, no matter how flimsy or improbable, hits the Internet.
We're inching ever closer to a full-on return to acting by Governator Arnold Schwarzenegger (has anyone called him the Cheaternator yet? Am I the first? I'm copyrighting it right now). Last month, Schwarzen-Watch told you that Arnold's first film back would be the revisionist Western "The Last Stand" from director Kim Ji-woon, a guy who, as the director of the badass Korean flick "The Good The Bad The Weird," knows a thing or two about revisionist Westerns.
Now we've got word from the Valencia County News Bulletin, that the film has a firmer start date and shooting location: October in Belen, New Mexico. The News Bulletin also provides a slightly more detailed plot synopsis for the film:
"'The Last Stand' is about convicts who are making their way to the Mexican border through New Mexico after escaping a prison in Las Vegas, Nev. They steal a car worth $5 million that reaches a top speed of 250 mph. The only thing standing between the convicts and their freedom is the border town sheriff, portrayed by Schwarzenegger."
The Sheriffanator! Admittedly, that one doesn't have quite the same ring as The Cheatenator.
Oh and if you live in the area, or you're just planning a pilgrimage to Belen in October to witness Schwarzenegger's glorious reemergence in person, look for the crew around Becker Avenue between First and Fifth Street. Not that I would, y'know, ever think of doing something like that. That would be totally stupid and lame. Now if you'll excuse me I need to go see how much October flights to Central New Mexico cost.
Do you think Arnold still has what it takes to be an action star? Tell us in the comments below, or on Facebook and Twitter.
[H/T MTV Movies]