"Scarface" returns to theaters for a one-day event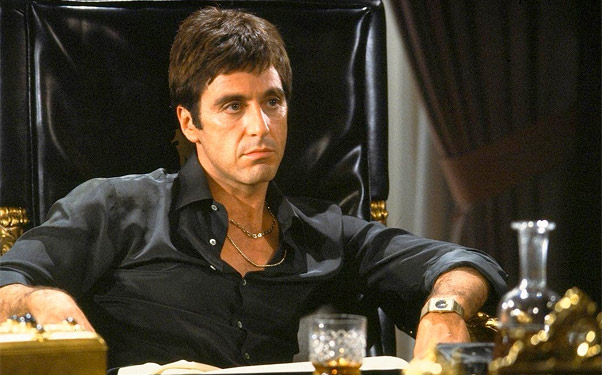 Posted by Aubrey Sitterson on
In 1983, the Oliver Stone-written, Brian De Palma-directed, Al Pacino-starring "Scarface" stormed into movie theaters, forever changing the way that rappers described themselves. The film, perhaps better known to younger viewers as "The movie version of 'Grand Theft Auto: Vice City'," will be returning to theaters to once again introduce you to that infamous "little friend" on Wednesday, August 31 at 7:30 p.m.
If you've somehow managed to get through your late teens and early 20s without having watched "Scarface" sincerely, ironically and then sincerely once again, it tells the story of Pacino's Tony Montana. Playing a Cuban immigrant, Pacino fights through the Miami underworld and an improbable accent to become the city's undisputed drug kingpin. Based on a 1932 film of the same name, since its release "Scarface" has become a cult classic and been appropriated by the gangsta rap neighborhood of the hip-hop community.
Later this month, the "Scarface Special Event" will air in theaters with "restored high-definition picture and enhanced audio," and will be accompanied by a 20-minute feature that "showcases interviews with popular filmmakers and talent expressing how this epic feature redefined the gangster genre, leaving an enduring influence on cinema," and presumably at least a half-dozen people doing their version of "Say hello to my little friend!"
The one-night event is being held to commemorate the first-ever Blu-ray release of the movie, which comes out on the following week on September 6. The regular version of the flick boasts exclusive new bonus content, but if you want to shell out the big bucks, you can pick up the "Scarface Special Limited Edition Blu-Ray," including collectible SteelBook packaging, 10 exclusive art cards, a digital copy of the film, a DVD of the original 1932 "Scarface," and even a "Scarface" themed humidor that will look hilariously ironic holding all your Swisher Sweets.
To get your tickets for the "Scarface Special Event," head over to Fathom Events now.