Robert Downey Jr. says "Iron Man 3" needs to "leave it all on the field"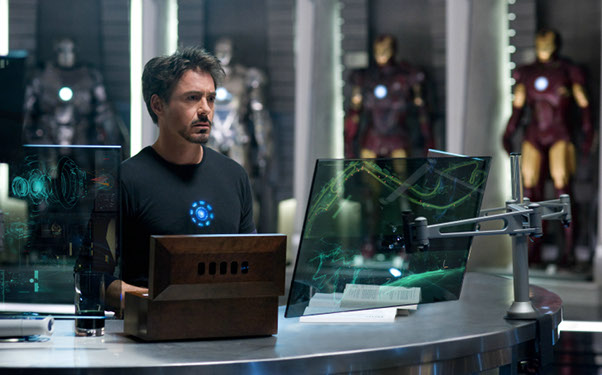 Posted by Rick Marshall on
Sure, "The Avengers" is dominating headlines recently, and by all rights it should: Marvel's upcoming superhero team-up extravaganza unites all of their big-name solo stars on one screen, and for one blockbuster-sized adventure. But what happens after "The Avengers" is in the rearview mirror?
Hero Complex recently spoke with Tony Stark himself, actor Robert Downey Jr., to get his take on the first film to follow "The Avengers" in Marvel's big-screen lineup: "Iron Man 3."
"My sense of it is that we need to leave it all on the field — whatever that means in the end. You can pick several different points of departure for that," said Downey.
And while his assessment could be interpreted to mean any number of things — from the third film being the final installment for him to the feeling that the mediocre reviews of "Iron Man 2" make the next film a make-or-break situation — Downey had nothing but praise for the arrival of new director/co-writer Shane Black, who he paired up with for 2005's critical darling "Kiss Kiss Bang Bang."
"[Black is] more than the sum of his parts and he's also kind of been a sleeper for a long time," said Downey. "We're not talking much about [the script] right now because Shane is off writing and we talked before that, and when we are talking again, the talking is going to be over pretty quick [because we're on the same page]."
"It's kind of like we're fighting on the same side and at the same time we're circling each other, so it's all great," he continued. "It should be great."
However, fans of Downey and Black's previous collaboration probably shouldn't expect the tongue-in-cheek tone that "Kiss Kiss Bang Bang" was so praised for. In fact, Downey said "Iron Man 3" will be "anything but" that type of vibe.
"The thing about Shane is that it will be anything but one of those moments, unless we come up with something that is so cheeky and character-driven and perfect that it has to be in the movie," he explained.
According to Downey, the move from "Iron Man" and "Iron Man 2" director Jon Favreau to new director Black was actually the only option worth considering when it came to the future of the franchise.
"Bringing in Shane Black to write and direct 'Iron Man 3' to me is basically the only transition from Favreau to a 'next thing' that Favreau and the audience and Marvel and I could ever actually sign off on," he said.
In fact, the thing Downey is most looking forward to is bringing Favreau back for "Iron Man 3" — but this time, in his role as Tony Stark's assistant, "Happy" Hogan.
"The fun thing is going to be getting Happy in the movie," he joked.
"Iron Man 3" is currently pegged for release May 3, 2013.