"Rise of the Planet of the Apes," reviewed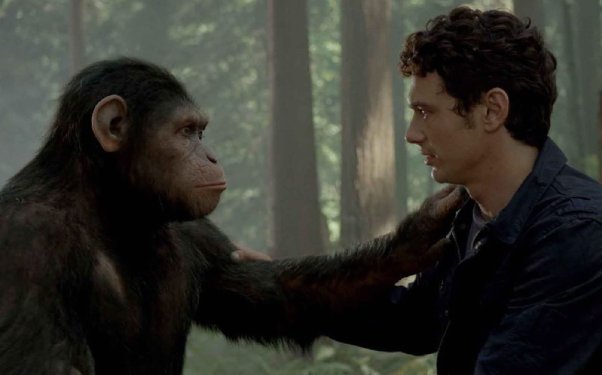 Posted by Matt Singer on
Friggin James Franco. First the man breaks the Oscars and now he single-handledly turns the earth into a Planet of the Apes. Talk about a bad year!
He's having a bad year, but at least he's in a fun movie. Yes, "Rise of the Planet of the Apes" is pretty fun, if watching mankind's rapid descent into chaos can ever be described as "fun." Franco plays Will Rodman, a scientist driven to find a cure for Alzheimer's in order to save his ill father Charles (John Lithgow). Will's experimental drug shows great promise in boosting apes' cognitive functions, but a freak lab accident gets the project cancelled and makes Will the father of an orphaned, genetically mutated baby chimp. Named Caesar by the Shakespeare loving Charles, the chimp grows into an adorable and clever toddler and then a frustrated and brilliant (and potentially dangerous) adult.
Will is forced to surrender Caesar to a primate shelter, where the ape slowly comes to hate humanity and plot a rebellion against his stinking damn dirty masters. That makes "Rise" a nice corrective to the awful Kevin James comedy "Zookeeper" (I was going to call it "laughable" — if only!), where zoo animals have the ability to communicate with one another and all they want to do is try to get Kevin James laid. No, if animals had human intelligence they would surely follow Caesar's lead and strike back the cruel people who stuck them in cages. Can you imagine what the apes from "Rise of the Planet of the Apes" would do to us if they knew about "Zookeeper?" It would be ugly.
"Rise of the Planet of the Apes" is of course a prequel to the classic series of American sci-fi films, loosely based on the 1963 novel by French author Pierre Boulle. Prequels are all the rage in Hollywood these days because they offer an easy way to prolong the lives of popular franchises, but most are plagued by the same problem: they deliver predictable backstory instead of surprising story. An air of inevitability hangs over all of them, and when the plots of movies feel inevitable, they also feel boring.
"Rise of Planet of the Apes" is a little bit different because the "Planet of the Apes" franchise has always been about man's inexorable march towards its own doom. Every film starts in darkness and ends in tragedy, so the fact that we know the apes will rise in this case doesn't hurt the experience. It simply makes "Rise" an appropriately tragic entry in an unusually and refreshingly gloomy Hollywood franchise. It also provides something you won't see in any other big Hollywood blockbuster this summer: an unhappy ending.
Then again, maybe that ending isn't so unhappy. You'd think a movie about a battle between humans and super-smart apes would favor humanity (after all, the movie was made by humans, at least as far as I know). But "Rise of the Planet of the Apes" comes down squarely on the side of its titular simians. All the humans in this movie are uniformly bland, colorless creations while Caesar, performed by "Lord of the Rings"' Andy Serkis with a truly impressive SFX assist from Weta Digital, is a multidimensional and flawed tragic hero. Some will say the filmmakers, like most folks in Hollywood these days, cared more about their special effects than the script and the actors. But a more generous reading of the film would argue that the movie intentionally undercuts its humans to force the audience to side with a protagonist hellbent on their destruction.
There's nothing appealing about Franco's dreary scientist, or Freida Pinto as his boring girlfriend, or Tom Felton as the meanest ape wrangler in human history. Serkis' Caesar, in contrast, displays real human emotions: he loves, he yearns, he regrets, and he rages. In a recent blog post, I joked that "Rise of the Planet of the Apes" looked exactly like James Marsh's documentary "Project Nim," about a real life experiment that taught a baby chimp sign language. And, in fact, the most beautiful scenes in "Rise" are the ones that expound upon the saddest moments in "Project Nim," where a chimp who's been given the tools to express himself like a person is treated like an animal. The fact that I am talking about beautiful and emotionally moving scenes in a prequel about embittered CGI monkeys, should tell you that this is not your average blockbuster cash-grab.
"Rise of the Planet of the Apes" was directed by Rupert Wyatt, taking a big step up in scale from his previous effort, the jailbreak movie "The Escapist," (his "Escapist" star, Brian Cox, is on hand as one of the flavorless humans). He does an impressive job integrating the human and ape halves of his cast and he employs a nimble camera in the action scenes that swoops and spins through the environment right beside Caesar, giving us a taste of his freedom of movement so that we're left all the more claustrophobic and uncomfortable when that freedom is later stripped away. Wyatt really empathizes with Caesar's plight. And the movie is good enough to convince us that we should too, even though it means the death of us all.
"Rise of the Planet of the Apes" is now playing. If you see we want to hear what you think. Tell us in the comments below or on Facebook and Twitter.