"Rambo" returning to video game consoles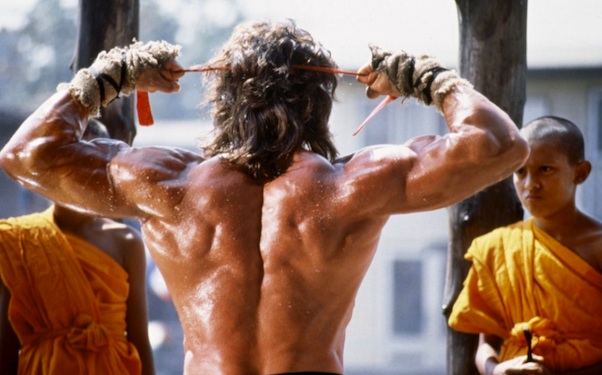 Posted by Matt Singer on
Like his "First Blood" theme song says, it's been a long road for John Rambo: a novel, four movies, two Silver Stars, four Bronze Stars for Valor, four Purple Hearts, the Medal of Honor, even a soundtrack featuring the music of Frank Stallone (that must be what the Purple Hearts were for). But none of that compared to the horror of his appearances on video game consoles, particularly in one unforgettably terrible Nintendo game that sucked tens of dollars and hundreds of hours out of the lives of thousands of kids of my generation. I never had to go to Vietnam, thank God. But I had to play the "Rambo" game, which left its own brutal scars on my psyche.
Rambo's made scattered gaming appearances here or there in the years since, and just last spring I told you about his hilariously violent arcade light gun game that is truly a sight to behold. But he hasn't relived those dark days on home consoles in over twenty years.
That all changes in 2012, when publisher Reef Entertainment will bring a new Rambo video game to XBox, PS3, and PC. Here's CEO Peter Rezon, from an announcement on MCV:
"'With the success of the most recent 'Rambo' film, and an international appetite for action movies with 'Expendables 2′ scheduled for release next summer, we felt now was a good time to do something special with this licence.'

Craig Lewis, commercial director at Reef added: 'We have big ambitions for Reef and the Rambo IP is the first step in establishing us as a worldwide player. 'Rambo' will be a triple-A title on PS3, Xbox 360 and PC and will capture the gritty atmosphere and full-on action which made the Rambo movies so successful.'"
Gritty atmosphere and full-on action are definite musts. So are Dan Hill's great theme song and authentic Sylvester Stallone grunts. The recent arcade shooter got the gameplay right since, just like in his movies, "Rambo" never ducks or dodges gunfire and barely moves or reloads. He just shoots and shoots and shoots and kills and kills and kills. Then, occasionally, he pauses for a light afternoon snack of blowing people up with explosive tip arrows. It's a robust experience.
A little bit more story would be nice. I can see Rambo being the perfect star of a less intelligent, more violent riff on "Uncharted"-style action. There shouldn't be too much story, though: just lots of jungle combat and vehicle chases, with some climbing and hand to hand combat. And, of course, borderline immoral amounts of gun violence.
Look for this new "Rambo" in 2012. As for a tagline, I suggest one inspired by this legendarily demented monologue at the end of "First Blood:" "You just don't turn it off."
Psyched for the new "Rambo" game? Tell us in the comments below or on Facebook and Twitter.