"Prometheus" set photos reveal big machines and alien tunnel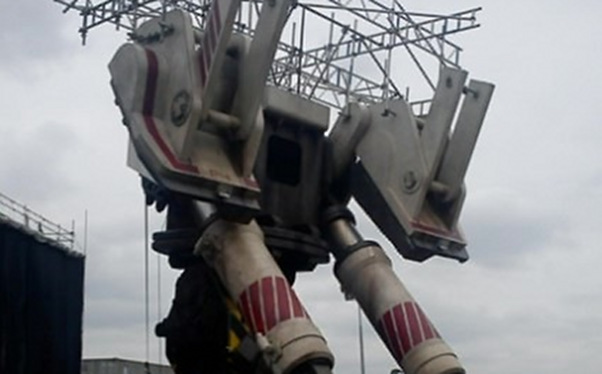 Posted by Rick Marshall on
Details surrounding Ridley Scott's upcoming "Alien" prequel film "Prometheus" continue to be scarce, despite an overwhelmingly positive reaction to the footage show during last month's Comic-Con in San Diego. That's why it's always buzzworthy news when anything emerges from the tightly controlled set of the film — especially some cool shots of the space-faring tech that will appear in it.
Over at fan site Alien Prequel News, they received a bunch of behind-the-scenes photos from the "Prometheus" set this weekend. While many of them have been removed, some of the photos are still making the rounds online — including a trio we found over at SlashFilm.
In the photos, we can see a large machine that looks like it may be the one glimpsed in the prior, official image from the film that was released during Comic-Con. This new photo gives us a much better view of it, though, and we get to see exactly how big it is in relation to the surrounding environment.
The photos also include a shot of one of the ground vehicles used in the film, as well as a look inside what appears to be an alien-designed tunnel.
At this point, there's been no official trailer for the film, so we'll have to make do with set photos until we finally get some footage.
"Prometheus" is set to hit theaters June 8, 2012, and stars Noomi Rapace, Michael Fassbender, Charlize Theron, Idris Elba, Guy Pearce, and Patrick Wilson.
What do you think of the "Prometheus" photos? Chime in below or on Facebook or Twitter.