Exclusive premiere: Kyle Andrews "The Search for A Heart"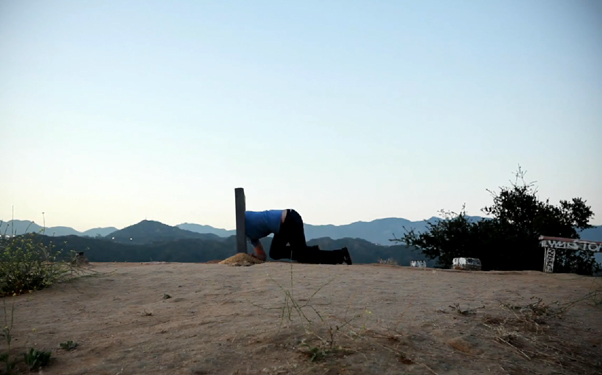 Posted by Brandon Kim on
Kyle Andrews' "Robot Learn Love" is a concept album about modern digital life and love. "We work, create art, and communicate every day through some sort of computer device, some sort of robot," Andrews says. Song titles written in IM shorthand explore alienation and heartbreak in high resolution, punctuated by lo-fi flourishes — vocals recorded sometimes through built-in laptop mics, other times through high end studio preamps, live strings are backed by simulated software drums.
These themes and techniques come alive in "The Search for A Heart" with a little twist from directors Matt Barber and Matt Webb who fancied working in a covert nod to the portal heavy, ancient-meets-futuristic 1994 film, "Stargate."
"As Matt [Webb] and I brainstormed ideas while listening to the song, the themes of escapism, discontentment, and idealism kept surfacing," Barber said of the conceptualizing for the video. "These themes, which are often found in 'portal films' such as 'Alice In Wonderland,' 'Chronicles of Narnia,' and 'The Wizard of Oz,' allow a character to confront their hopes, fears, and regrets. With 'Search For A Heart', we set out to explore the character's fear of commitment. But, secretly, we just wanted to pay homage to our favorite film… 'Stargate.'"
video player loading
.
.
.
Kyle Andrews tour dates:
September 1 – Asheville, NC @ Lexington Avenue Brewery
September 2 – Durham, NC @ Casbah
September 5 – Norfolk, VA @ The Taphouse in Ghent
September 7 – Vienna, VA @ Jammin' Java (this is basically DC)
September 8 – Philadelphia, PA @ NorthStar Bar
September 9 – Brooklyn, NY @ Public Assembly – w/ Taxicab Racers and Stationary Set
September 10 – New York, NY @ Pianos
September 11 – Pittsburgh, PA @ Garfield Artworks
September 13 – Columbus, OH @ The Basement
Where's the heart? Let us know in the comments below or on Twitter or Facebook!